Lovina Beach in Bali – One of the most well-liked tourist destinations in North Bali is Lovina Beach. Kalibukbuk Village, about 10 kilometers west of Singaraja City, is where you'll find this beach. In contrast to most of Bali's beaches, which feature large waves, Lovina Beach has gentle waves. If you want to go swimming or play in the water on the beach, this is an ideal location.
Lovina Beach has a natural draw for tourists. Still, it also has a wide range of unique amenities that can enhance your vacation experience. Furthermore, some other tourist attractions within a short distance of Lovina Beach are well worth a visit.
To learn more about Lovina Beach, check out the review below!
Lovina Beach has a lot to offer visitors
Singaraja may not be the first place that comes to mind when you think about tourist sites in Bali. You may not be aware of this, but the city of Singaraja has quite a bit of tourism potential. There is, of course, Lovina Beach. The number of people flocking to this beach each year is steadily rising. Lovina Beach can draw a large number of visitors due to various factors. In the following list, you will find multiple examples:
The seaside attraction with a wild dolphin show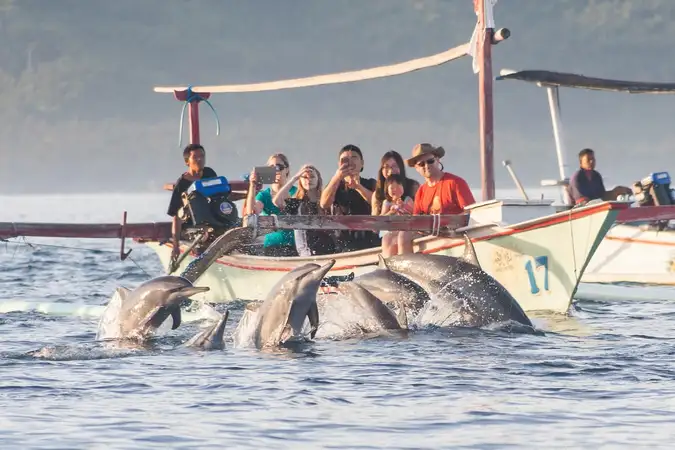 Lovina Beach is the only place in Bali where you may observe dolphin attractions in their natural habitat. Lovina Beach is most known for its abundance of dolphins. These highly clever sea creatures roam free in their natural habitats. No one can catch or sell dolphins at Lovina Beach due to local government restrictions protecting them.
You must rent a unique boat provided by the manager if you want to see dolphins in the middle of the sea. Around IDR 60,000 per person can get you on a ship that holds four to five persons. The boat will then transport you to an ocean area where you are likely to see dolphins.
The best time to see dolphins at Lovina Beach is between 06:00 and 09:00 in the morning. Because of this, they are arriving before that time is essential if you want to witness unique occurrences on other beaches in Bali. Lovina Beach is best visited during the dry season when dolphins are most active from April to October.
Bali's best place to see the sunrise
Visiting Lovina Beach early in the morning so you can see the dolphin attraction is an excellent opportunity to soak in stunning dawn. The dolphin's appearance occurs about 05:30 – 06:00. Thus the time isn't substantially different.
So, before embarking on a journey to the furthest reaches of the ocean, you can spend some time relaxing on Lovina Beach. There is a chance that dolphins will come when the sun rises in the east, even if you are incredibly fortunate. Keep a camera close at hand at all times so that you can capture those fleeting, priceless moments.
Lovina Beach has a slew of things to do
Lovina Beach offers much more than just the chance to see dolphins up close. Lovina Beach offers a wide variety of additional exciting activities. In the following list, you will find various examples:
Those who go snorkeling get to experience the ocean's wonders up close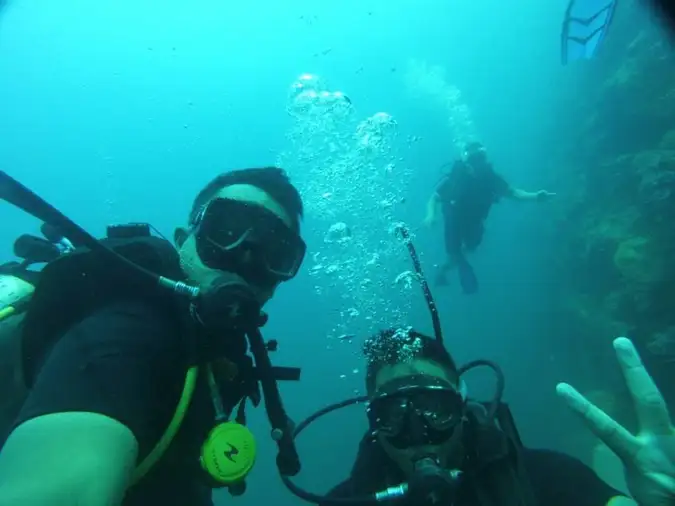 It's not just the dolphins that draw visitors to Lovina Beach; it's also the underwater beauty that you should see for yourself. Coral reefs and brightly colored ornamental fish can be found throughout the area. After observing the dolphins, you should try this activity if the sky is still evident.
You don't need to bring your equipment to go snorkeling in Lovina Beach because snorkeling equipment rental companies exist. The monthly rent is simply about Rp 60,000. The cost is reasonable.
The act of fishing from a boat in the open ocean
At Lovina Beach, you can go fishing in addition to snorkeling. Renting a boat from Lovina Beach is the first step in experiencing this thrilling adventure. For those who want to go fishing alone, you can join a group of other fishermen on the same boat. A rental fee of between IDR 60,000 and IDR 100,000 should be levied for each person who uses the facility.
A large boat can be rented if you come in a large group and intend to fish together. As a rule of thumb, group rates on boat rentals tend to be less expensive than paying per person. There usually is only 4-5 person on each boat.
Enjoy some time in the sun and sand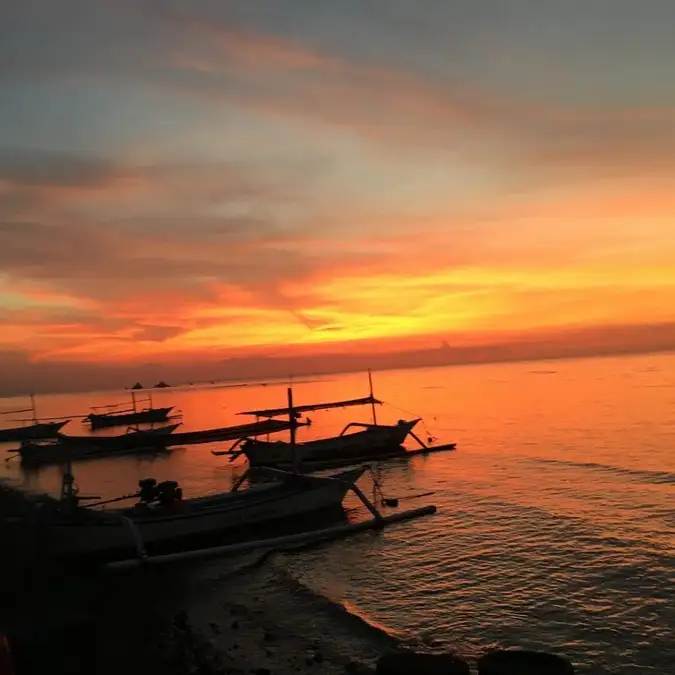 It's also a great place to go if you're looking for a way to get over your exhaustion. Lovina Beach's black sand makes it stand out from the rest of Bali's beaches, which are all white. You can relax and have a picnic on this black sand.
Tourists often gather here to see the sunrise from the beach. You may choose to bring your meal or order from the nearby booths. You won't get hungry while lounging on the sands of Lovina Beach for hours.
Check out a music show
It's not just that you may have fun at Lovina Beach during the day. Visitors often stay out late at the different restaurants and cafes located around the beach. The energy on the beach is amplified by the presence of live music at some cafes.
If you're spending the night at Lovina Beach, you'll want to bring something to keep you warm against the sea air. You can wear a heavy coat and order hot meals or drinks for warmth.
Lovina Pantai Beach's Surrounding Attractions
Singaraja is home to several other popular tourist destinations, many of which are within easy driving distance to Lovina Beach. There are some tourist sites in the area that you should not miss while visiting Lovina Beach shortly:
There are hot springs in Banjar
Banjar Hot Springs offers three different types of thermal waters. There is a 12 x 1.5-meter hot spring pool with a depth of 1 meter in the upper portion with eight hot showers. The second hot spring pool is located in the park's lower part. The 12 by 10-meter pool is the largest in Banjar Hot Springs, making it the most spacious.
This hot spring also includes a third pool to the west of the first, all of which are located in the same complex. The third pool is only as deep as an adult's hips. Visitors to Banjar Hot Springs can use a hot shower to "massage" their backs.
Arama Temple of Brahmavihara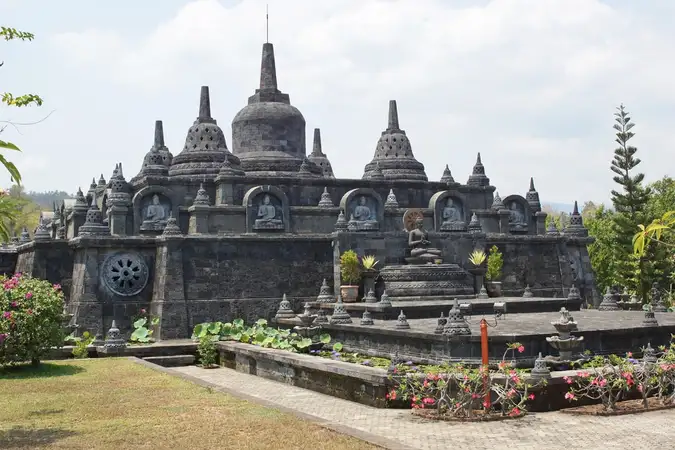 Brahmavihara Temple is located in Banjar, Buleleng, around 11 kilometers from Lovina Beach. Known as the Banjar Buddhist Temple, the temple is Bali's most important Buddhist worship site. Uposathagara, Dhammasala, Stupa, Bodhi Tree, and Kuti are the five sections of this location.
The walls of the Uposathagara are decorated with carved panels depicting the birth of the Buddha. Dhammasala, on the other hand, is a venue where monks gather to pray and engage in other religious practices. The Stupa, a massive concrete bell, is another interesting stop.
On Vesak Day, you are welcome to join the daily meditations held at the Bodhi Tree. On the other hand, Kuti consists of many rooms that are utilized by monks and students alike.
Lovina Beach's location and ease of access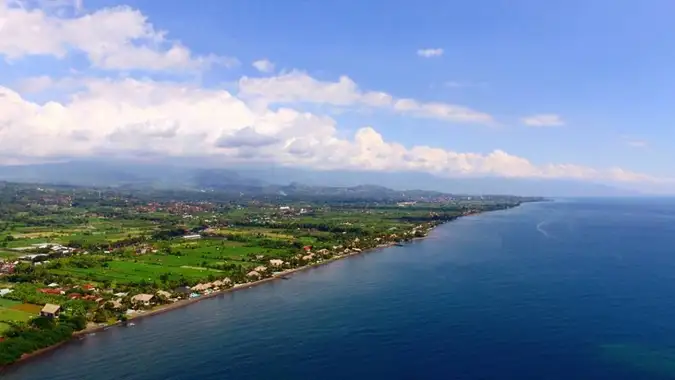 Traveling by boat is the most common mode of transportation for visitors visiting Lovina Beach. Due to its proximity to Gilimanuk Harbor, less than an hour away. The trip will take you about two hours if you're flying out of Denpasar.
From Denpasar, a private vehicle can transport you to Bedugul, Singaraja, and Lovina. To go to Lovina Beach using public transit, you'll need to get off at the Tegal terminal and travel to the Ubung terminal.