Where Is Bali Island Located On The World Map? – Bali is a small tourist island located in the country of Indonesia (in Asia), and most Americans would probably have a hard time finding it on a world map.
Once you get to Bali and start exploring, it can also be a bit of a tricky island to navigate because of its odd shape and the way the different regencies (provinces) are set up.
Hopefully, this Bali map and location guide will help clear up any confusion!
 
Where Is Bali On The World Map?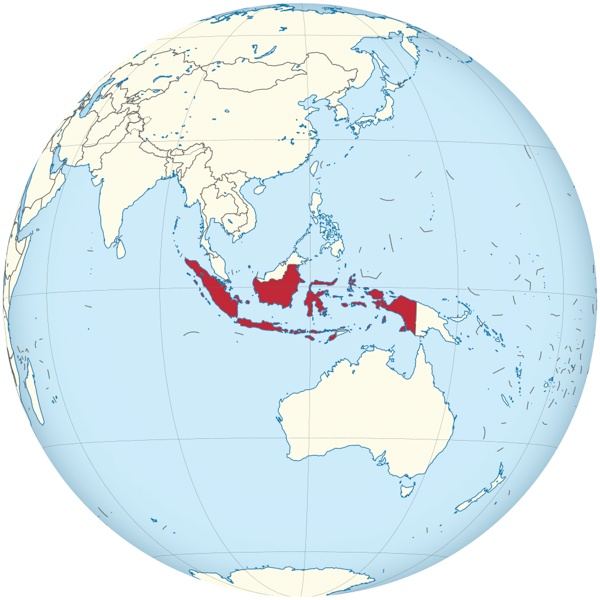 Bali is an island in Indonesia, so let's first find the country of Indonesia on the world map.
Indonesia is located in Southeast Asia and it's made up of more than 17,000 islands.
It's surrounded by Malaysia, the Philippines, Papua New Guinea, and Australia, as you can see (in red) on the map of Asia below.

Next, let's look at a map of Indonesia and find the island of Bali (in red).
Bali is a fairly small island, located just to the right of Java, the 5th largest island in Indonesia. These two islands—Bali and Java—were connected by land in centuries past.
Bali is one of the more than 17,000 islands in Indonesia. The island is 153 km long and 112 km wide with an island area of 123.98 km2.
The island is half the size of East Java province and about 3.2 km from Ketapang in the eastern part of Java.
Geographically the island is located on an imaginary line of 8°25′23″ south latitude and 115°14′55″ east longitude. This gives Bali a tropical climate like the rest of Indonesia.
Bali Regencies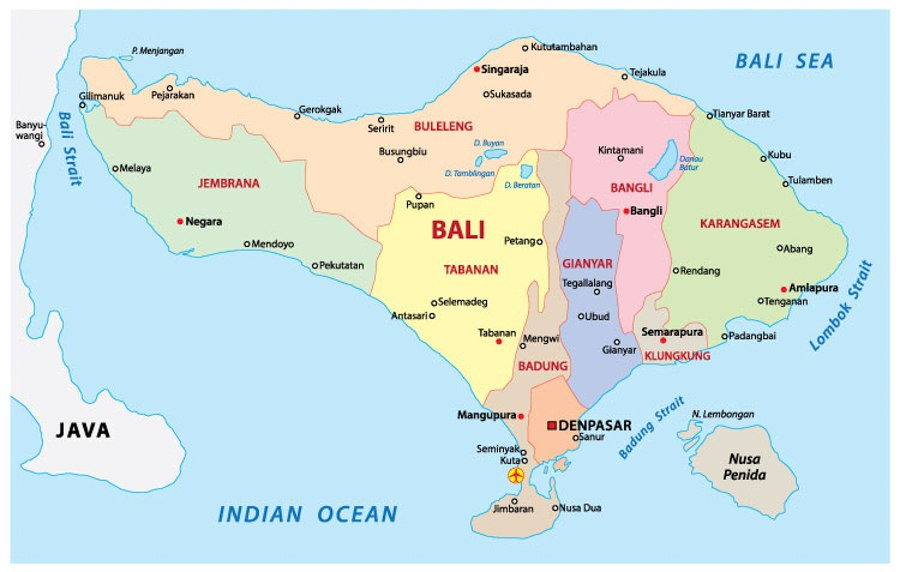 The island of Bali is divided into 8 regencies and 1 city (Denpasar).
Here's a brief summary of each area in Bali Indonesia:
Badung. The Ngurah Rai International Airport is near the bottom, in Kuta. Badung regency is known for popular tourist zones like Canggu, Kuta, and Uluwatu.
Denpasar: This is the 'city center of Bali. It also includes the laidback beachside town of Sanur, which is known for being one of the quietest and family-friendly areas of Bali.
Gianyar. This regency is home to Ubud and lots of popular cultural sights.
Tabanan. Contains the Jatiluwih rice terraces and Bedugul.
Klungkung. Mostly known for Nusa Penida, a small but very scenic island off the coast of Bali.
Bangli. The most famous site is Kintamani and Mount Batur, an active volcano you can hike for sunrise.
Buleleng. Has Munduk, Singaraja, West Bali National Park, and most of the north coast of Bali island.
Karangasem: Big area with Bali's tallest volcano, Mount Agung. Also known for Sidemen village and the Amed coast.
Jembrana: This is Bali's least developed area. It's mostly covered with mountains and rice terraces.
How To Get To Bali
Bali has a modern and efficient airport nowadays. In fact, it's one of my favorite airports in Southeast Asia! Based on customer satisfaction levels, the Bali airport has even rated the world's third best by Airport Council International in 2016.
There are direct flights to Bali from Europe, the Middle East, Asia, Australia, and other places around the world. Unfortunately, there are currently no direct flights from the United States to Bali, but American travelers can fly to Bangkok, Kuala Lumpur, or Singapore first, and then take a short and inexpensive flight down to Bali.
Things To Do In Bali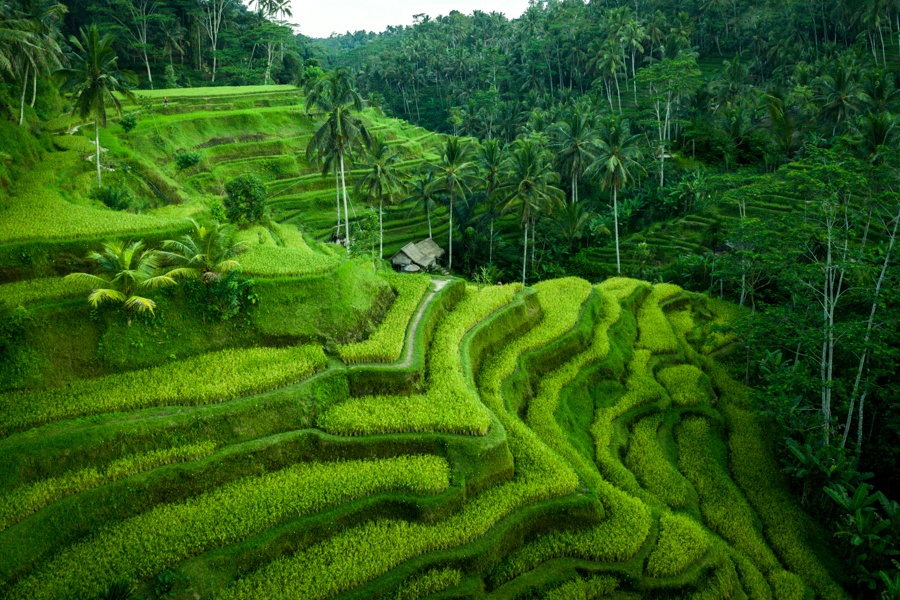 There's something in Bali for every kind of traveler.
Adventure lovers will have access to all kinds of hikes and scenery, with waterfalls, jungles, cliffs, volcanoes, and more. You can do rafting, ATVs, jet skiing, hot air balloons, and scenic helicopter flights.
Or, if you're the more laid-back type, Bali has beaches, clubs, markets, temples, and rice terraces for you, along with an endless supply of good restaurants and massages. The local food is amazing, and you can also find lots of western food as well.
Wildlife can be seen at places like the Ubud Monkey Forest, the Mason Elephant Park, Bali Zoo, Bali Bird Park, Bali Butterfly Park, Bali Sea Turtle Society, and West Bali National Park. You can also go snorkeling or scuba diving and see all kinds of colorful fish and coral.
You can find a wide variety of nice handmade crafts in Bali like wood carvings, paintings, and rattan bags, and Bali is also known for coffee beans, spices, oils, lace, ceramics, and silverworks.
If any of that sounds nice, then you will fall in love with Bali and its people!
More Bali Travel Tips
I hope this Bali map helped you understand where Bali is in the world.
The popularity of this little island in Indonesia has really exploded in the last few years thanks to all of the amazing things to see and do here.
If you're planning a trip to Bali or somewhere else in Indonesia, don't forget to check out my complete Bali Travel Guide and stay tuned to this blog for more tips, photos & info!