Recommendation Tourist Attractions in Gianyar Apart from Ubud – One of the famous tourist destinations in Bali is Gianyar Regency. This district has a variety of tourist objects. The Ubud area is one of the most visited by foreign and domestic tourists.
So, you don't need to worry about those who have been to Ubud and want to visit other tourist attractions. Besides Ubud, you can still see other tourist attractions that are no less interesting than Ubud.
Most of the tourist attractions in Gianyar are natural and very suitable for healing from the fatigue of daily routines. Here are six recommended tourist attractions in Gianyar besides Ubud:
1. Relax and enjoy the fresh river water at Sanggraloka Farm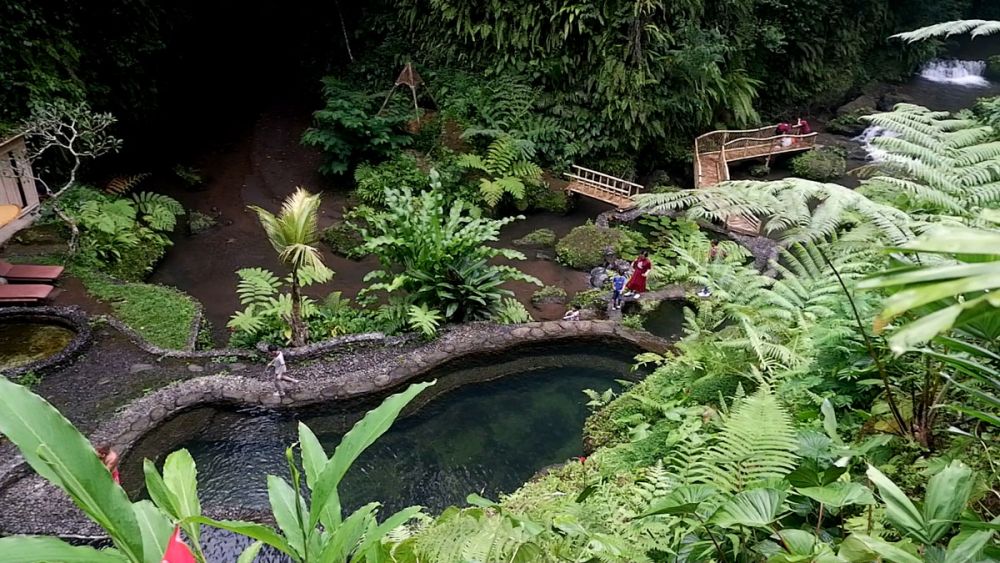 Sanggraloka Farm is an open-air tourist spot that offers a unique view of the cliff above the river. The location of this tourist spot is on the outskirts of Ubud, precisely on Jalan Raya Bersela.
You can enjoy a very beautiful natural atmosphere while eating the menu provided in this place. You must bring clothes for swimming because you can enjoy the fresh flow of the river under the Sanggraloka.
Right on the edge of the river, there is an artificial pond, where the water comes from a spring that comes out of the cliff wall. From the central place of Sanggraloka Farm, you are invited to exercise by descending 204 stairs to get to the river area.
2. Enjoying nature in Taro Village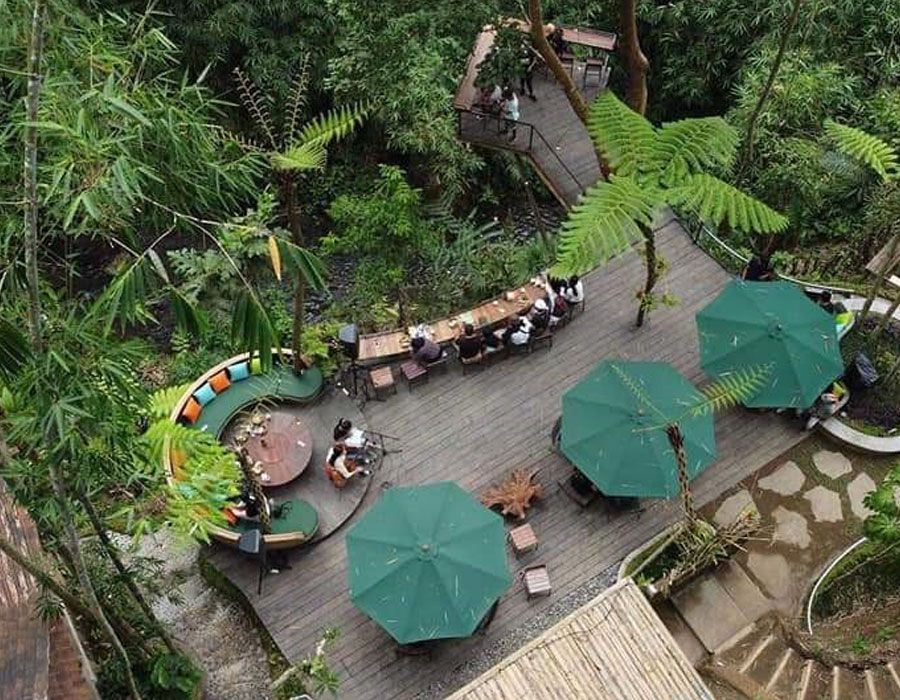 Taro village is trendy in Gianyar. The location is between Kintamani and Ubud. In this tourist village, you can enjoy several tourist objects that have a natural concept.
You can do various activities in Taro Village, from cycling, and exploring the countryside on foot, to enjoying the fresh river water in Taro Village. You can also see the white ox conservation object, which is very sacred by residents, visit the firefly garden, and relax in Asri Delod Sema Village while enjoying a variety of food menus and feeling the natural atmosphere around it.
If you want to spend the night in this village, you can choose a variety of accommodations, from villas to people's houses transformed into guest houses.
3. D'Tukad River Club, healing with a waterfall atmosphere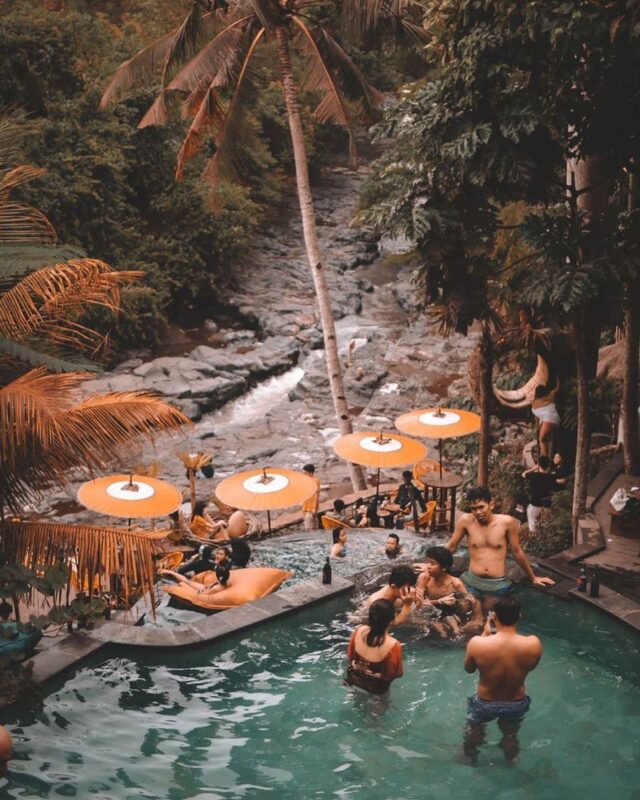 Relaxing at the beach club on the beach is undoubtedly regular. D'Tukad River Club imitates the pattern of a beach club, but with an atmosphere of natural and river views. This tourist spot, located in Banjar Blangsinga, Saba Village, Blahbatuh, Gianyar Regency, is in the same location as Blangsinga waterfall, also known as Tegenungan waterfall. So, while relaxing eating a variety of culinary in this place, you can enjoy a magnificent waterfall view.
This place has swimming pool facilities, and you can try pretty challenging swing rides. In addition to enjoying the atmosphere at the River Club, you can also enjoy the beauty of the surrounding villages by bicycle.
4. Adventure in Hidden Canyon Guwang, Sukawati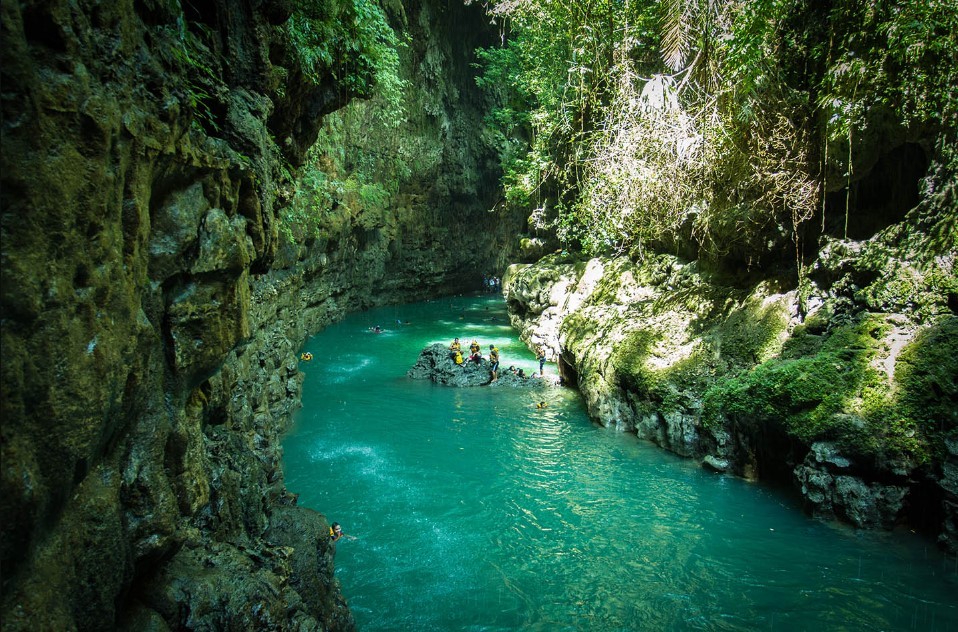 This exotic natural tourism object is located in the Guwang Village area, Sukawati, Gianyar Regency. This wild tourist spot is located in a canyon, a deep and narrow valley with rocky slopes of river flow erosion.
This gives an artistic impression on each cliff wall along the Beji Guwang river. This location is perfect for those who like adventure because you can walk along the river with very exotic views.
However, to visit this attraction, it is not recommended for visitors who are elderly, have serious injuries, or have a history of asthma and heart disease, because they require stamina and a fair physical condition.
5. Enjoy the beautiful terraced rice fields at Alas Harum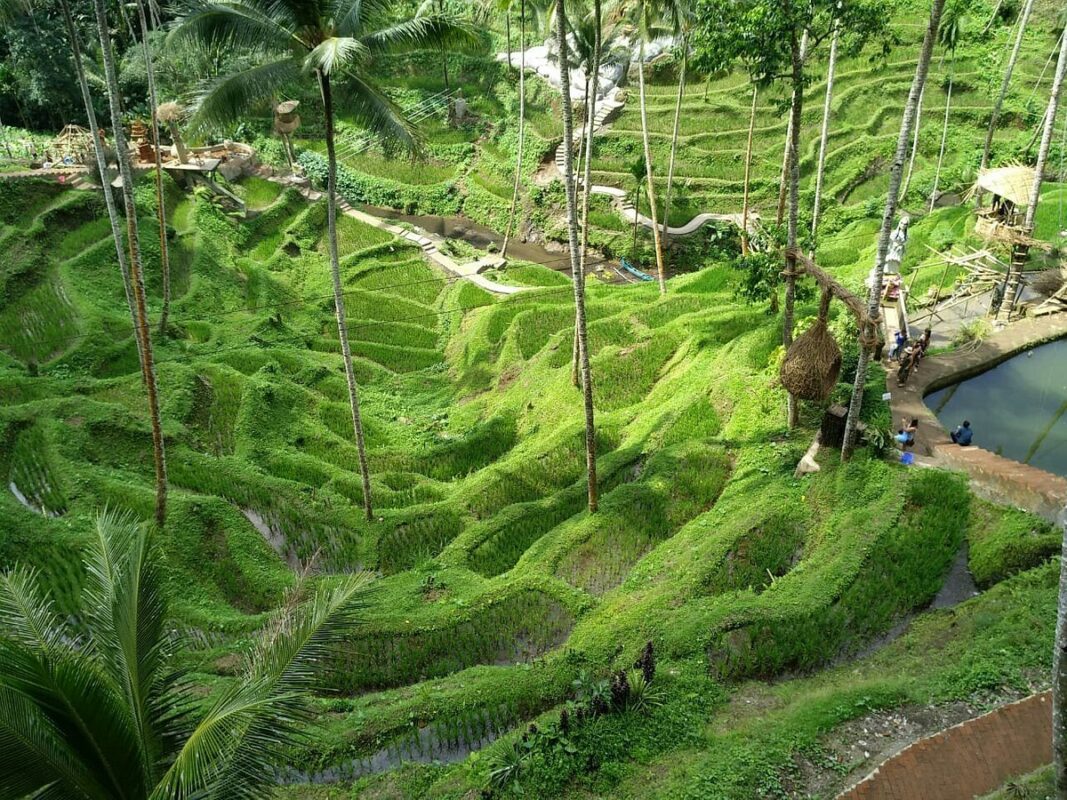 Alas, Harum is one of the most popular agrotourism attractions. This natural tourist attraction is located on Lunga Street, Tegallalang Village, north of the tourist center of Ubud. In this place, you can enjoy the natural scenery in the form of terraced rice fields or terraces typical of Tegallalang Village.
There is an exciting photo spot, namely a statue of a gorilla head and a human body (Pekak Brayut) located on the rice terraces. In addition to taking selfies, visitors can try several rides such as extreme swing, sky bike, and flying fox.
6. Take a selfie with unique wooden roots at Munduk Asri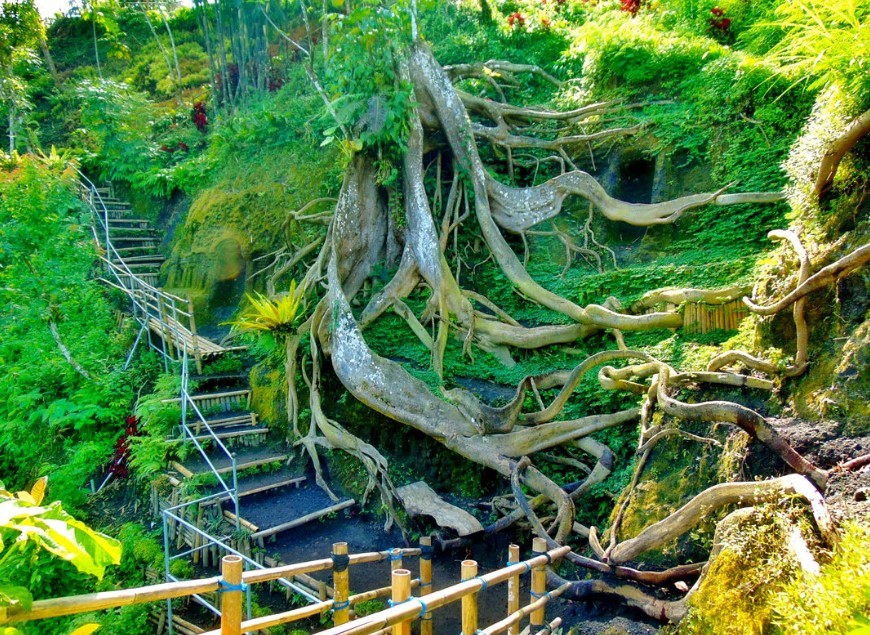 Munduk Asri Tourism Object is located on the edge of Payangan Highway, Kerta Village, Payangan, Gianyar. This place offers the beauty of the roots of the old taep tree with a lovely shape.
After passing through a gate made of plant roots, visitors will pass through an orange garden area where visitors are given the opportunity to pick the oranges during the fruit season. You will be amazed by the beauty of the shape of the roots of the taep tree, which is arranged neatly on the edge of the cliff. This location is perfect for those of you who like to take selfies.
In addition to the beautiful tree roots, there is also a unique building made of bamboo and wood roots. This place has a shape like a blank bale that can be used as a place to rest.
So, how about it, are you ready for the holidays? You can choose several locations to visit so that your vacation has an unforgettable impression. Don't forget to prepare your camera to capture holiday moments, and don't forget to upload it on your social media accounts.
When on vacation to tourist attractions with an open nature, remember always to keep the cleanliness and beauty of the place. Don't litter. Happy holiday!