Free Beaches in Bali – Anyone in need will definitely take advantage of the Island of Bali. Isn't it true? Rows of beautiful beaches, stunning natural scenery, thick customs, to delicious culinary delights are all available here!
It's no wonder that this island never loses its sense of disappointment for anyone who comes here. So, to make your vacation more enjoyable, try to go to the following beautiful beaches. Don't worry, you don't have to pay for an entrance ticket, it's free! Kuy, check out the series of free beaches in Bali below!
7 Free Beaches in Bali, the Enchantment Makes You Want to Come Back Again!
The beach can always be a reliable sedative when the mind gets tired. In Bali, you can visit these beaches freely, you know! Take note of 7 recommendations for free beaches in Bali. It could be your reference while on vacation to Bali!
1. Melasti Beach
You must be familiar with this one beach. In addition to having a magnificent view, Melasti Beach is also very subscribed to be a shooting location for various films or pre-wedding photo locations.
The most famous part of this beach is the access that winds and sits atop towering limestone cliffs. Although it is still in the development stage, Melasti Beach has good road access and can be visited for sightseeing.
Melasti Beach itself is a white sandy beach. It is usually used to hold Melasti ceremonies such as Nyepi. About the attraction, of course, you can get many things here. Starting from beautiful natural scenery, hidden places in South Kuta, snorkeling spots, and enjoying beautiful sunsets.
Price: Free*
Opening hours & days: daily, 24 hours
Address : Jl. Melasti Ungasan, Ungasan, Kec. South Kuta, Badung Regency, Bali (Check on Google Maps)
2. Tulamben Beach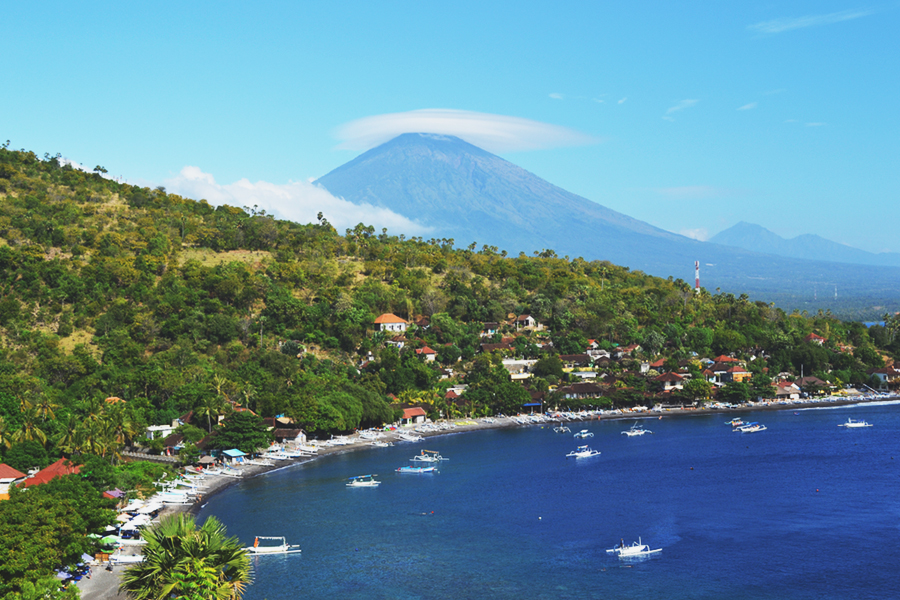 Shout out to underwater lovers! You will definitely love being on this free beach in Bali! Tulamben Beach can give you a breathtaking and exotic underwater view! Come on, prepare all your diving needs, and enjoy the unforgettable view down there!
Like you, being in a rural area will be presented with beautiful and incredible natural scenery. Oh yes, it is not only known for its diving and snorkeling activities, but this area is also commonly used as a place for climbers to conquer Mount Agung. Yup, the location is indeed at the foot of Mount Agung.
The favorite spot of Tulamben Beach is the appearance of the United States warship that sank in the middle of this beach. The best time to dive at this beach is in the morning, under 11 o'clock. Because in the morning, visibility when diving can reach 30 meters. It's a must-try!
Price: Free*
Opening hours & days: daily, 24 hours
Address: Karangasem, Tulamben, Kubu, Karangasem Regency, Bali (Check on Google Maps)
3. Suluban Beach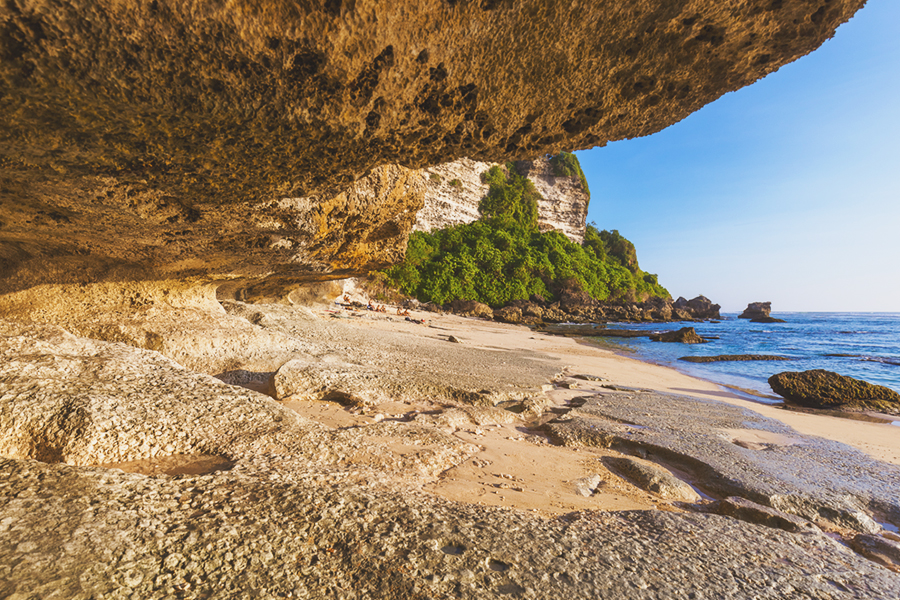 This beach, located in Uluwatu, is a surfer's paradise. With its big waves, it's no wonder so many surfers are competing to come to beat it.
The uniqueness of Suluban Beach is in the large rock that resembles a cave and is located on the shoreline. From this large rock aperture, you can see the sunlight shining.
When you come to this white sand beach, you will also see a beachside bar that is the hallmark of Suluban Beach. For those of you who come with your partner, enjoying the sunset from this beach can provide a very romantic atmosphere!
Price: Free*
Opening hours & days: daily, 24 hours
Address: Pecatu Village, Uluwatu, Badung, Bali (Check on Google Maps)
4. Tegal Wangi Beach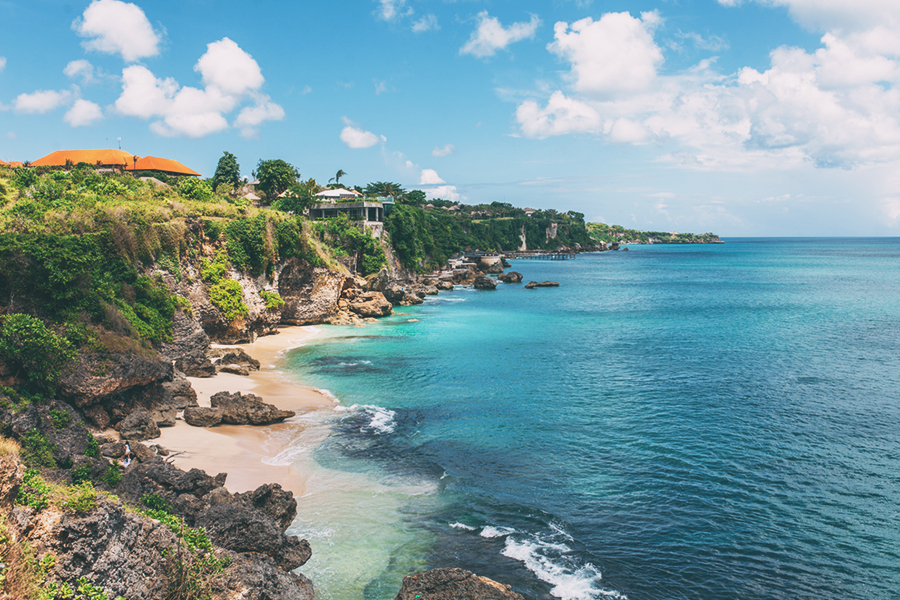 Soak in a natural-made Jacuzzi, do you have one? Yes, here! At Tegal Wangi Beach, you can find this natural Jacuzzi near the beach. But, you can only see it when the seawater is not installed, and there are no big waves, right!
In addition to the charm of its natural Jacuzzi, Tegal Wangi Beach is also really worth it to visit if you want to see a sunset that is so exotic. You can take a place from the top of the cliff on the edge of this beach for the best location.
Like photos? Try the photo from the cave on the beach, guaranteed that your photos will be aesthetically pleasing! In addition to the beauty mentioned above, this beach is also a free beach in Bali. So, the more fun, right?!
Price: free*
Opening hours & days: daily, 24 hours
Address: Jimbaran, Kec. South Kuta, Badung Regency, Bali (Check on Google Maps)
5. Angel's Billabong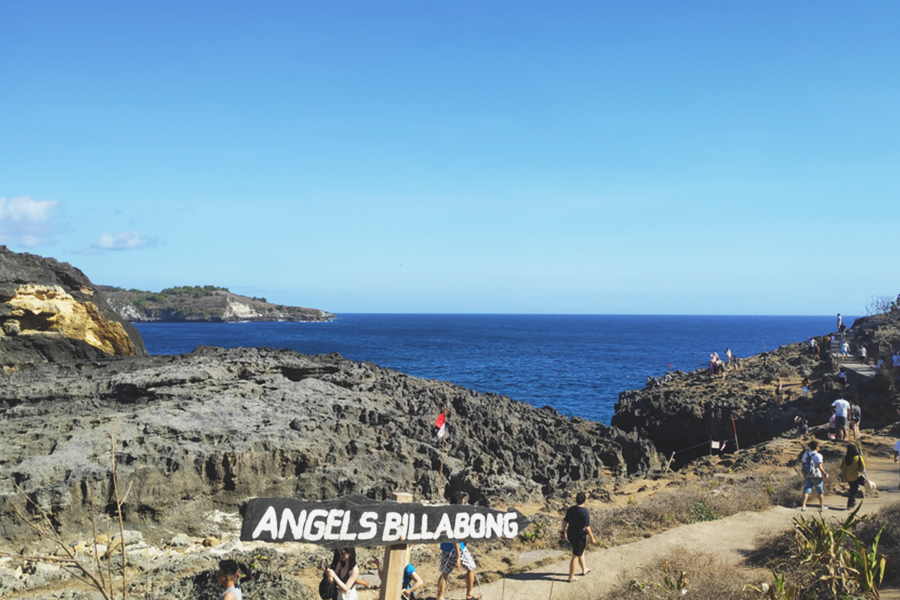 Have you ever crossed to Nusa Penida? If not, it's the perfect time to come there! Because you will find lots of attractive beautiful beaches. Surely it will make you feel at home taking pictures or swimming here. Well, one of the beaches that you really have to visit is Angel's Billabong.
You know, this hidden marine paradise in Nusa Penida has very clear and very calm water. Surely you won't be able to resist not diving and swimming in this natural swimming pool.
Oh yes, the rocks found in Angel's Billabong also look so unique. It's no wonder that many tourists want to capture the moment by taking pictures here.
Price: Free*
Opening hours & days: daily, 24 hours
Address: Sakti, Nusa Penida, Klungkung Regency, Bali (Check on Google Maps)
6. Nyang Nyang Beach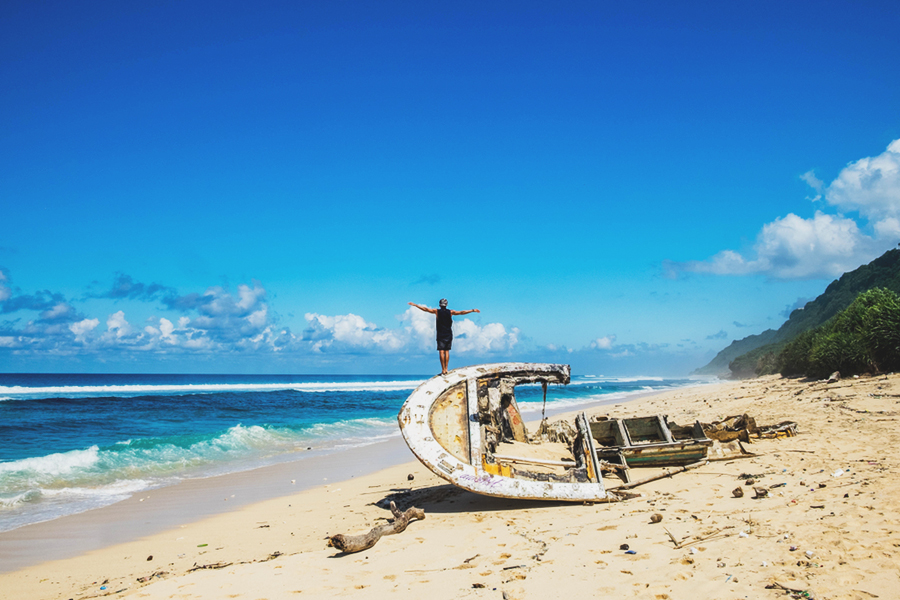 If you go to Nyang Nyang Beach, you will definitely see the boat's wreckage stranded on the beach. Not just an abandoned ship, but this spot is always the target of tourists to take pictures, you know!
Besides that, Nyang Nyang Beach is really suitable for you water sports lovers. With big waves, you can practice surfing on this beach, which is quite hidden.
With soft white sand beaches, relaxing on the beach while enjoying the breeze and expansive sea views, it can definitely lift your mood, right?
Price: Free*
Opening hours & days: daily, 24 hours
Address: Jl. Raya Uluwatu Pecatu, Pecatu, Kec. South Kuta, Badung Regency, Bali (Check on Google Maps)
7. Pasih Uug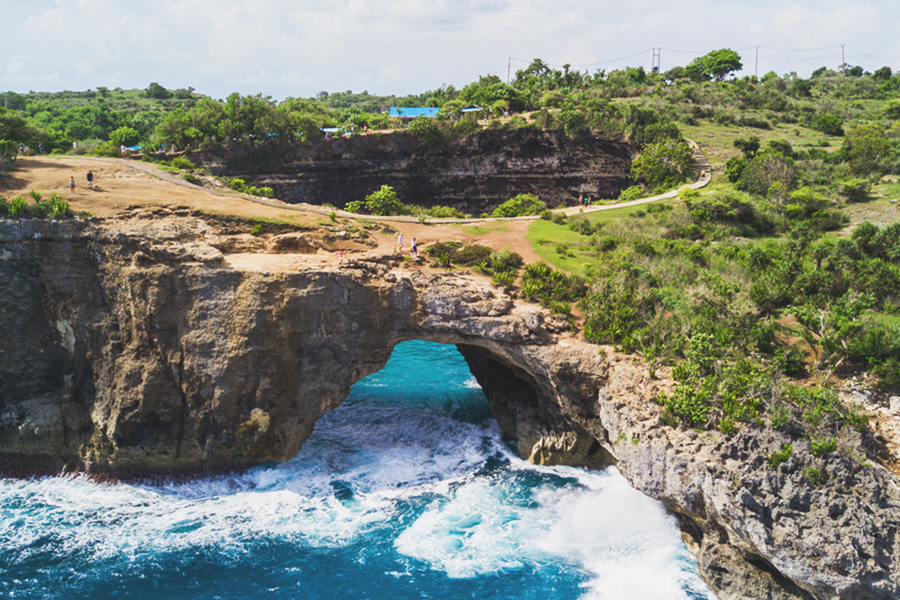 This last free beach recommendation in Bali is still the exact location of Angel's Billabong. Pasih Uug, also known as Broken Beach, has a fantastic view with clear blue seawater.
This giant hole in the middle of the rock has become the icon of Pasih Uug. It is as if making it as the entrance from the seawater to the small pool.
Pasih Uug has calm water, so tourists can do various water activities in this area, such as swimming or snorkeling. Don't want to get wet? You can simply enjoy the beautiful natural scenery combined with the vast sea. It sure makes your mind so fresh!
Price: Free*
Opening hours & days: daily, 24 hours
Address: Unnamed Road, Sakti, Nusa Penida, Klungkung Regency, Bali (Check on Google Maps)