Traditional Ceremonies in Bali – Talking about beach tourism and entertainment venues, Bali is second to none, t-mates. There are so many places that you can explore on this island. Starting from family tourist attractions, beach clubs, bars, pubs to charming beaches that make your vacation feel so much fun.
Bali is indeed known as a beach resort and nightlife. However, Bali is also known as a place with many very unique traditional ceremonies and is a shame to miss.
Are you in Bali? Come on, take the time to enjoy the uniqueness of traditional ceremonies in Bali, such as the following.
10 Traditional Ceremonies in Bali with Their Uniqueness
Bali has a lot of tourism and cultural potential. No wonder the island, dubbed the Island of the Gods, is never empty of tourists. Do you want to see another side of Bali? Get an exciting moment by watching the following 10 traditional ceremonies in Bali.
1. Ngaben Ceremony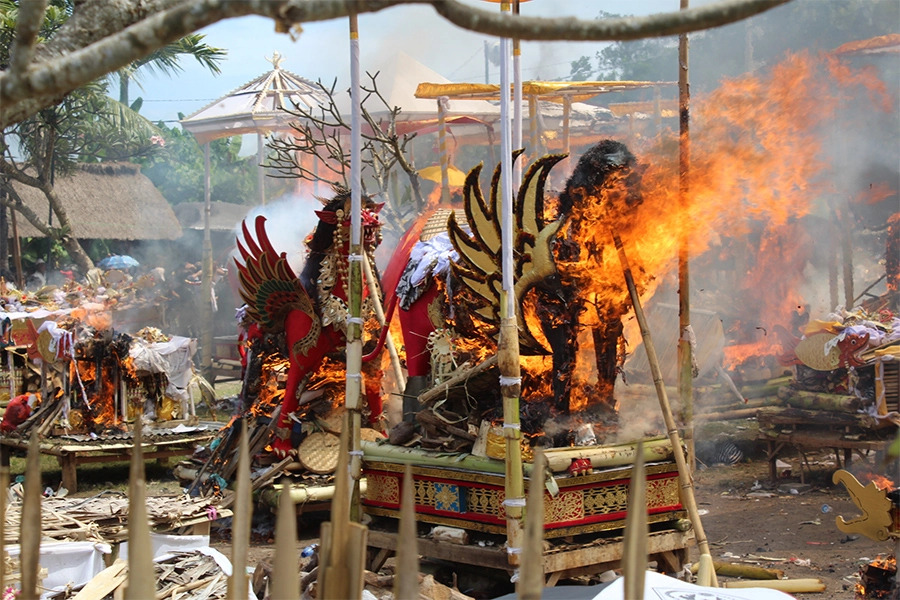 Ngaben is a cremation ceremony in Bali which is carried out to perfect the corpse. This traditional ceremony is divided into several types, namely Ngaben Sawa Wedana, Ngaben Asti Wedana, and Private.
The Ngaben ceremony will not always be held, and you can find it in Bali, t-mates. This is caused by several factors, one of which is the economy. Given the high costs incurred for the Ngaben ceremony, not all Balinese can carry out this ceremony for the family of the deceased.
Usually, the Ngaben ceremony will be held within 3-7 days. In fact, there is also a preparation that lasts up to a month, and the body is preserved until the funeral is carried out. This type is also called Ngaben Sawa Wedana.
Another type of Ngaben that is often done in Bali is Ngaben Asti Wedana. The body has been buried first so that later only the bones will be burned. This cremation was implemented for a long time because the family might run into problems with costs or binding village customary rules.
While the Private Ceremony is for those who died abroad, far away, or whose bodies could not be found. This traditional ceremony in Bali is indeed unpredictable, t-mates. You will feel lucky to witness this conventional ceremony in Bali while traveling in Bali.
2. Melasti Ceremony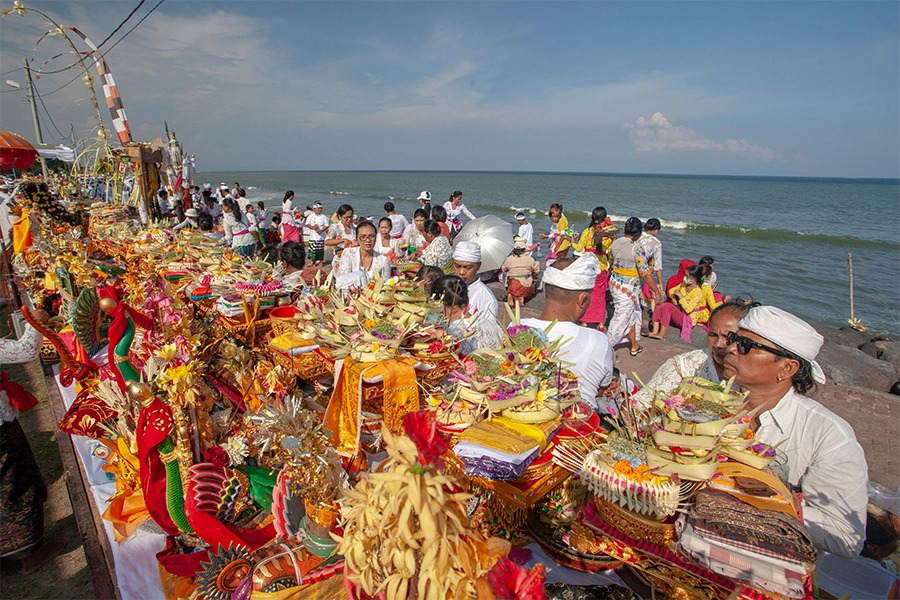 Melasti is the next big ceremony which is always held every year. Usually, the Melasti Ceremony is held three days before the Nyepi celebration. The existence of the Melasti Ceremony is intended as self-purification for the Hindu population in Bali. They will visit several sacred water sources such as lakes, springs, to the sea, which is believed to hold the spring of eternity or Amerta.
In this event, Hindu stakeholders will sprinkle holy water on the heads of everyone who comes. This sprinkling aims to shed all the dirt and bad things in the body so that the soul and body are pure again.
Oh yes, t-mates, if you want to watch this traditional ceremony, come 3 or 4 days before the Nyepi celebration is held on the island of Bali. You can choose to stay in hotels close to prominent Hindu temples in various areas such as Kuta or Uluwatu.
3. Saraswati Ceremony
The next ceremony you can meet in Bali is the Saraswati Ceremony. Unlike Ngaben, a ceremony for death, Saraswati is a ceremony to celebrate science. This ceremony is held to worship or glorify Dewi Saraswati, who is believed to bring knowledge on earth to make everyone in the world bright and educated.
At the Saraswati Ceremony, all things related to science, such as books and scriptures, will usually be prayed for. This event also contains artistic performances such as dances, story readings, and an all-night literature night. The Saraswati ceremony is held every 210 days using Balinese calendar calculations on Saturday Umanis Watugunung.
4. Omed-Omedan Ceremony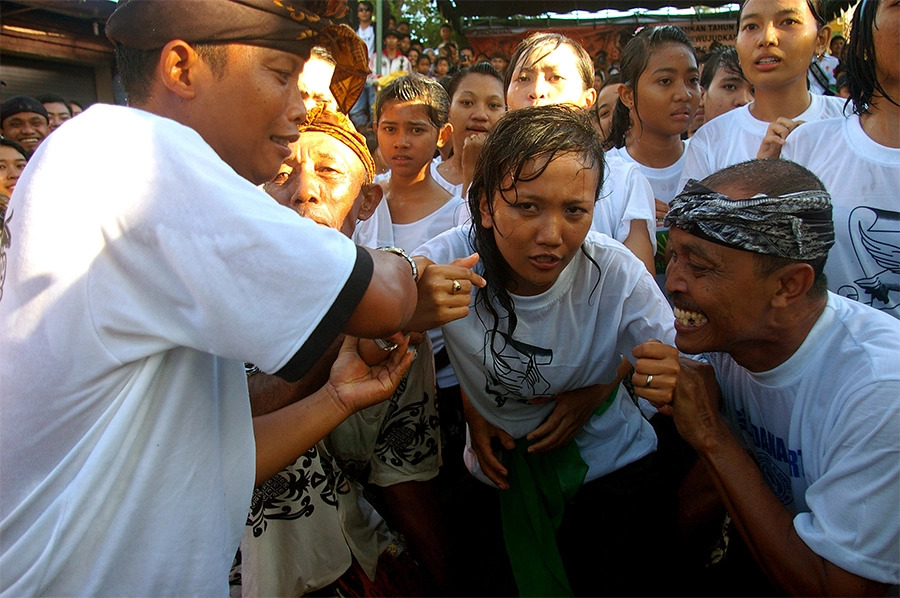 If you want to witness a truly unique ceremony in Bali, come after Nyepi. Usually there is an Omed-Omedan ceremony that takes place in the Banjar Kaja area, Sesetan, Denpasar, Bali. This ceremony begins with performing mass prayers at the temple.
Furthermore, two groups of unmarried youths and women aged 18-30 years will begin to face each other. Usually, a young man and woman will come forward and be doused with water. They will try to fight each other and sometimes kiss each other.
The Omed-Omedan tradition has existed for decades and is still being maintained today by residents in Denpasar in particular. Well, if you want to witness this unique ceremony, you can look for lodging in hotels around Denpasar.
5. Mekare-Kare
For male residents in the Tenganan area, Karangasem, Bali, the Mekare-Kare ceremony is an event to show their greatness. They will fight and do everything they can to win the war, whose weapon is a pandan leaf with sharp thorns. Participants in this ceremony will be given a pandan leaf and a shield as a protector.
Mekare-Kare is performed every year to honor Indra, the Hindu god of war. By completing this ceremony, all the men in the village would be considered solid and capable of fighting. This ceremony will usually be held in early June every year.
6. Mepandes Ceremony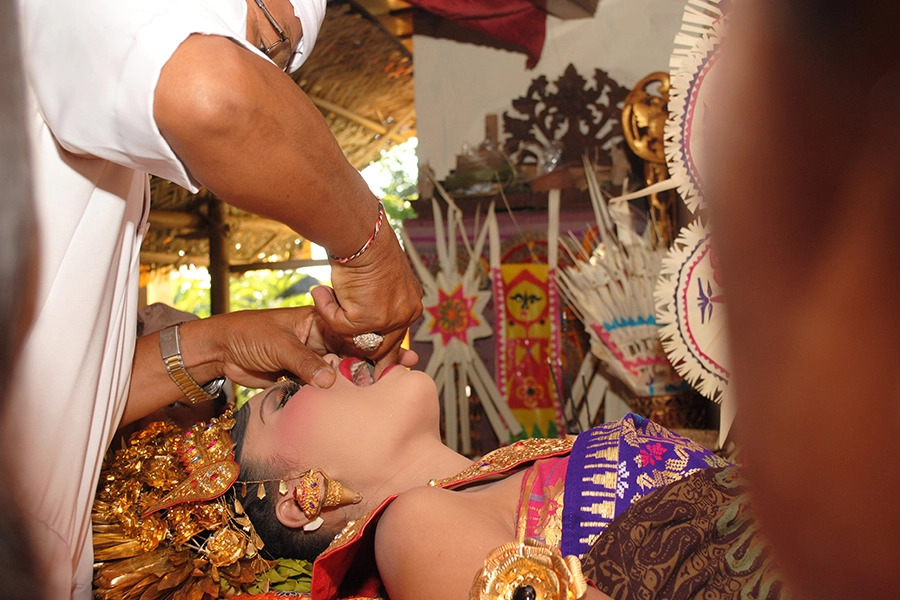 For Hindus in Bali, the Mepandes Ceremony or tooth-cutting ceremony is a religious ceremony done when a child has grown up. This ceremony can also be interpreted as a form of payment of parents' debts to their children. Because it is considered to eliminate the six bad traits that exist in humans.
In this Mepandes Ceremony, the children who are growing up will have their 6 upper canine teeth scraped off. By filing the canines until they are flat, those growing up are expected to do good all the time.
7. Ngurek Ceremony
This one ceremony is quite extreme, t-mates. This is because Ngurek is considered similar to debus. Later, someone involved in this Ngurek Ceremony will stab their body with a dagger.
However, not just an ordinary ceremony; Ngurek has deep moral values, you know, t-mates. Whereas humans, we must believe in God Almighty. That way, you will be given grace and help by the Almighty.
8. Tumpek Landep Ceremony
Tumpek Landep is a ceremony carried out by the Balinese people to purify their weapons and equipment with offerings and prayers. This ceremony will be led by a traditional leader and carried out in a temple that is considered sacred and has the correct location.
All weapons and equipment belonging to the purified community are expected to provide blessings for the owners of these weapons and equipment.
9. Otonan Ceremony
Bali does have many traditional ceremonies and religious ceremonies; another example is the Otonan Ceremony. This ceremony is a formal ceremony held in the context of a person's birth. Usually, Otonan will be held when the baby has reached the age of 6 months. Then it will be held every 6 months again, with a smaller ceremony.
Balinese people believe that by doing the Otonan Ceremony, they can determine their character. In fact, another ceremony will be held if the person's character is not good, and it is hoped that this behavior will change.
10. Mesuryak ceremony
Lastly, there is the Mesuryak Ceremony, which is so lively and full of joy, t-mates. This ceremony will usually be held every 6 months, or to be precise, on Kuningan Day. You can only find this Mesuryak ceremony in Bongan Village, Tabanan Regency.
This tradition, which is held as a tribute to the ancestors, will usually be kept with cheers and provide provisions in rice and money. The uniqueness of this Mesuryak tradition is that it is colored by throwing money into the air, which will be contested by the residents.