Best Tourist Destinations in Kintamani Bali – There will never be enough time to cover all of Bali's tourist attractions. The Island of the Gods is brimming with fascinating tours. Similarly, the Kintamani region is home to many breathtaking natural wonders just begging to be discovered.
Kintamani is still part of the Bangli Regency, located in Bali's north. To help you plan your trip to Kintamani, we've compiled a list of must-see attractions.
Penelokan Village in Kintamani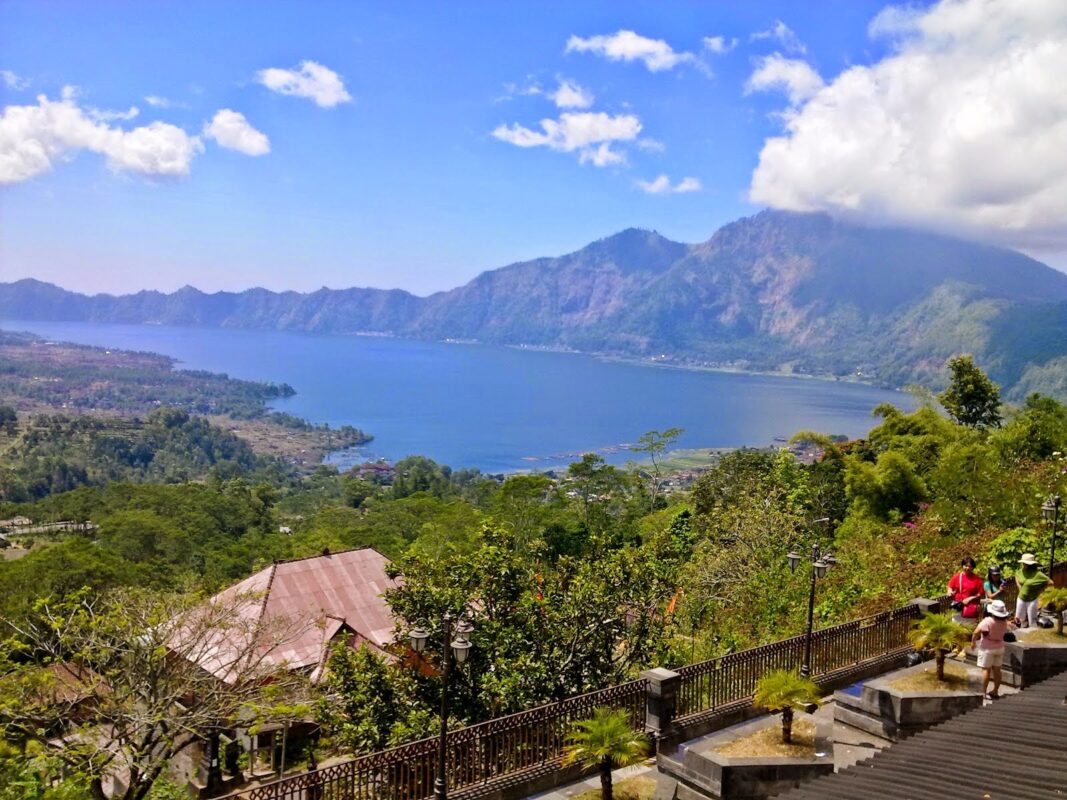 Because of its elevation, this picturesque village's air is constantly refreshing. This town is the best place to see Mount Batur and Lake Batur from the highlands. If you visit, please remember to bring plenty of layers.
Location: Kintamani District, Bangli Regency, Bali, Penelokan Village.
Views from Mount Batur
An exhilarating vacation activity is mountain climbing. Mount Batur, Bali's second-highest peak, is an excellent place to try. Awe-inspiring scenery is on display.
Climbing Mount Batur takes 2 to 3 hours on average. Make sure you're well-prepared for the hike and have the proper gear.
Location: Bangli District, Kintamani District, Bali
The Batur Lake
You may all go to Lake Batur when you've finished ascending Mount Batur. As a result of its scenic setting at the foot of a mountain, this lake is frequently shrouded in fog. Foreign tourists typically refer to Lake Batur as the most magnificent caldera.
To add to the fun, you can go boating or swimming or whatever on the lake. Take advantage of the lake's many attractions by renting a boat. In addition to the swan boat that can be climbed by two individuals, the more exhilarating it becomes.
Location: Kintamani District, Bangli Regency, Bali: North Penelokan Village
The Temple of Ulun Danu Batur
An unusual and spectacular temple can be seen on the shores of Lake Batur. The Ulun Danu Batur Temple is one of Bali's most important temples. Thus it's a shame to miss it.
Even when Mount Batur erupted in 1926, the temple's grandeur still shone through. In addition, because of its proximity to the lake, the surrounding countryside is much more picturesque.
Location: Kintamani District, Bangli Regency, Bali: North Penelokan Village
Trunyan Village
Located east of Lake Batur, this small village is ideal for learning about Balinese culture. Why? Because Trunyan Village is a burial ground that does not follow the Balinese tradition of burning the remains.
The victims' bodies were dumped on the ground beneath the Taru Menyan tree, which had been blanketed in bamboo. There is surprisingly less of a stink in this place. As a result, you won't be surprised to encounter a lot of human skulls.
Location : Kintamani District of Bangli Regency in Bali's Trunyan Village
Mount Abang
Sunrise photographers flock to Bali's third-highest mountain, Gunung Agung. You'll feel at home here for a long time because the ambiance is pleasant.
Because of the mountain's 2,151-meter elevation, climbing it is a bit of a challenge. You can see Lake Batur's panorama from a height, you know.
Location: Bangli District, Kintamani District, Bali
The village of Pinggan
Campers go to Pinggan Village, one of Bali's busiest destinations. Because of its elevated location, the scenery and environment are more appealing.
A viewing platform with Mount Batur in the background is also available. You can't take your gaze off it because of how stunningly beautiful it is in its natural state!
Location: Village of Pinggan, Kintamani District, Bangli Regency, Bali, Indonesia
Many visitors to Bali's Kintamani region visit these places for the stunning natural scenery. There's no better place to unwind after a long week at work or school than this idyllic locale. What's your first destination?
Pictures from google