Most beautiful waterfalls in Bali – Talking about water tourism in Bali, there will be no end. So far, Bali is famous for its beautiful beaches. But not only beaches, but Bali also has a series of beautiful waterfalls.
If you usually move from one beach to another in Bali, this time let me try to go to the waterfall. You definitely won't be disappointed. But you don't have an idea about waterfall tourism in Bali?
Waterfalls in Bali that are a pity to miss
You may imagine struggling downstairs or hills to get to a waterfall. Indeed, it must be tiring. But believe me, you won't regret it when you see the waterfall. Just get ready to hear the sound of falling water and feel the refreshing splash of water. You can get everything by traveling to the following waterfalls.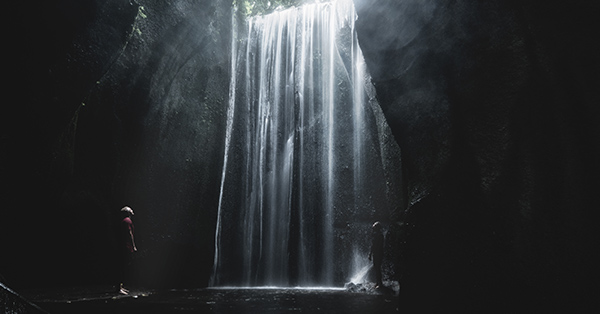 It takes a little effort to enjoy this trendy waterfall. You have to go down a narrow and steep cliff. The problem is that this 15-meter high waterfall is hidden between large cliffs.
However, this hidden position doesn't make tourists give up on stopping by. The most beautiful view is when the sun shines on the waterfall.
The hot sun will be treated with a fresh waterfall. Don't forget to take pictures, okay? Take photos from a distance so that the high cliffs with falling water are clear and stunning.
Entrance ticket: IDR 10 thousand*
Location: Jl. Tembuku, Penida Kelod Hamlet, Bangli.
How to get here: about 24 kilometers from Bangli district.
2. Gliding from Alingaling Waterfall
It would help if you tried extreme activities here for those who like challenges. You can slide from a waterfall as high as a dozen meters or jump off a cliff.
There are several cliffs with different heights to choose from. To do this extreme activity, you must use the services of a guide and be equipped with safety.
Don't just jump or slide, especially if you don't understand the location and don't understand the correct position.
Although it sounds scary, many visitors are interested in testing their adrenaline. One of them, definitely thanks to the beautiful scenery and freshwater that wets the body when landing.
Those who try it, please style as cool as possible when you jump. But you have to be careful and follow the guide's directions.
Entrance ticket: IDR 20 thousand, water sports around IDR 125 thousand *
Location: Jl. Raya Sambangan Village, Buleleng.
How to get here: about 8.5 kilometers drive from Singaraja city.
3. The rush of Nungnung Waterfall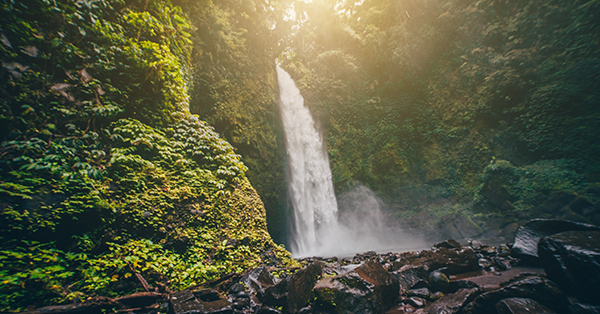 For those who like trekking, you can visit the Nungnung waterfall. Before arriving at the base of the 50-meter-high waterfall, visitors must descend hundreds of steps.
But calm down; there are several resting places to unwind. It is coupled with beautiful scenery along the way that keeps you excited.
Fatigue must be replaced with pleasure when you directly see a very heavy waterfall. Satisfy yourself by playing with water before getting ready to climb the stairs again.
Entrance ticket: IDR 10,000 for adults and IDR 5 thousand for children*
Location: Pelaga Village, Badung.
How to get here: drive from Denpasar with a distance of about 45 kilometers to the north.
4. The uniqueness of Peguyangan Waterfall
If you are visiting Nusa Penida Island, stop at the Peguyangan waterfall. You are guaranteed to feel at home and don't want to go home.
This beautiful waterfall is on the edge of a cliff that flows directly into the ocean. The water source comes from the surrounding reefs. Visitors can soak while looking at the open sea at a very affordable price, of course.
But gather strength first because you have to go down the stairs at the edge of a cliff. Anyway, don't let your guts shrink. While descending the stairs, you can breathe fresh air and peek at the view of the open sea.
Entrance ticket: IDR 15 thousand*
Location: Nusa Penida Island.
How to get here: cross from Padang Bai Harbor or Sanur Beach by speed boat starting from IDR 100,000 per person*
5. Captivated by the Twins, Tibumana Waterfall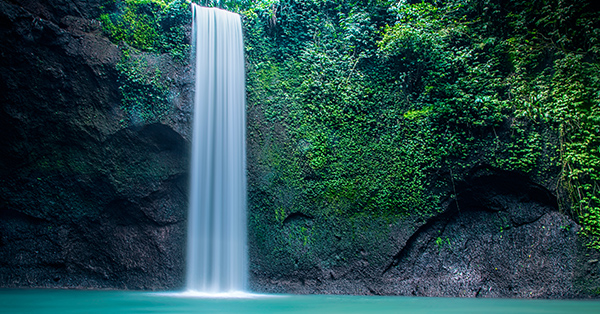 If one waterfall is not enough for you, please come to Tibumana waterfall. There are two waterfalls here, or many people call them twin waterfalls.
Uniquely, the discharge of these twin waterfalls is erratic. Sometimes it can be heavy; sometimes, it can slow down. If you want to come here, you don't have to worry. There is already permanent stair access built at this location.
Many tourists say that this waterfall is very clean and beautiful. So make sure you keep it clean and sustainable, okay?
Entrance ticket: IDR 10 thousand*
Location: Apuan Village, Bangli.
How to get here: about 32 kilometers if you drive from Denpasar.
6. Swim in the Banyumala Waterfall Pool
Are you still looking for instagrammable waterfalls? Just hurry to the Banyumala waterfall. This waterfall appears to be divided into several sections with varying sizes. The peak of the highest waterfall is about 20 meters.
Beneath it was a large pond to accommodate the falling water. Interestingly, this pool is quite profound. So it's not surprising that many tourists use it for swimming.
Make sure to bring a change of clothes. Stay alert because the pool water is quite deep for those who bring minor children.
Entrance ticket: IDR 10 thousand*
Location: Wanagiri Village, Buleleng.
How to get here: about 65 kilometers if you drive from Denpasar.
7. Take Beautiful Photos at Tegenungan Waterfall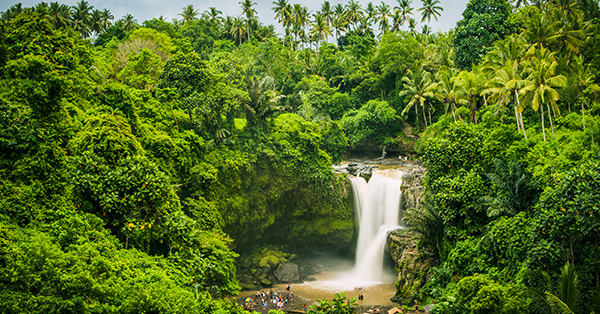 Whenever I visit a waterfall, I feel like getting to the bottom quickly. But it is different from the Tegenungan waterfall.
Here, several unique spots are provided for taking pictures, such as a big swing. Visitors can pose on the swing with this 15-meter high waterfall background.
For those who are on vacation with your partner, you can also take a selfie in front of a spot with a heart. If you want to swim, you should come during the summer because the water is evident and fresh.
Entrance ticket: IDR 15 thousand*
Location: Jl. Ir. Sutami, Kemenuh Village, Gianyar.
How to get here: drive from Ubud with a distance of about 11 kilometers or 20 kilometers if departing from Denpasar.