Terrace Race in Tegalalang Village – The Island of the Gods Bali not only has beautiful beaches but also terraced rice fields, as presented by the Tegalalang tourist attraction. In a tour package in Bali, this place is visited while traveling on the route in the direction of Kintamani – Ubud; the location itself is not far from the tourist attraction of Ubud.
Tegalalang is a sub-district city, still in one area of ​​the Gianyar Regency. This tourist spot is located on the edge of the main highway, strategically on the tour route in Bali and adjacent to the Ubud tourism area, making Tegalalang visited by many tourists every day.
So if you want to find a beautiful natural recreation area beside the beach while on vacation on the island of the Gods, Bali, then this terraced rice field tourist destination in Tegalalang is an ideal tour destination.
Before you visit this Terrace Race in Tegalalang, take a look at some of the exciting charms that exist in the town of Tegalalalng, Gianyar!!
The Attraction of Tegalalang Rice Fields
Ceking Rice Terrace Tour in Tegalalang Gianyar Bali is a natural terraced rice field. The view of the terraced rice fields looks like a ladder with rice plants.
In processing rice fields such as plowing, seeding, or even during the harvest season, every opportunity at Ceking Rice Terrace will undoubtedly present a fantastic view.
Ceking Rice Terrace Tour in Tegalalang Gianyar Bali provides a special place for visitors to see the expanse of rice fields, so you can capture this tourist attraction in Bali to make it more optimal.
The expanse of rice fields is presented at the Tegalalang tourist attraction. The view of this terraced rice field is unique. The steps are sharper and more attractive like natural stairs, surrounded by rows of wild and charming coconut trees.
Subak System in Agriculture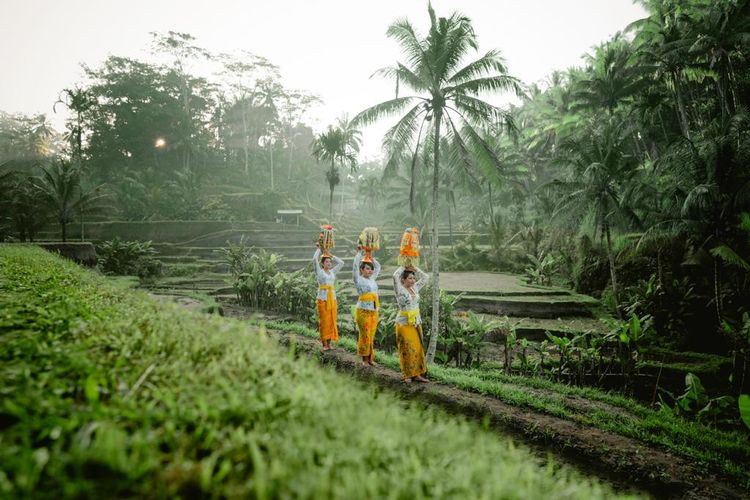 In this village area, a community organization specifically regulates rice cultivation in terms of rice cultivation called the subak system.
Don't be surprised if we visit the Tegalalang Village area of ​​Ubud, Bali; we find many temples specially built by farmers.
It is said that they built this temple to be dedicated to Dewi Sri or the so-called Goddess of Prosperity and Fertility.
Beautiful Rice Field View
This is one thing that makes rice fields in Bali an attractive tourist attraction visited by tourists.
This area has a beautiful view; this location always brings a feeling of coolness and peace in the heart for anyone who can dive into the charm of its natural beauty.
Exploring the terraced rice field area in Tegalalang Village, Ubud Bali, we will be able to feel a clean and natural air by enjoying the rice plants and the grove of coconut trees around the rice fields surrounded by beautiful hills.
This tourist spot in the Tegalalang Village, Ubud Bali, when it enters the rice planting season, the natural scenery around the village will look more beautiful with dominant shades of green.
Tegalalang is a Typical Souvenir Seller
Along the Tegalang highway, many shops display various wooden sculptures for souvenirs, the most popular cottage industry in Bali.
We can find wooden and iron statues in the form of giraffes, cats, dolphins, wooden masks, wood carvings, solid stone carvings, and many other handicrafts at lower prices.
Tips for Going to Tegalalang
Here are some tips for those of you who want to visit Tegalalang Rice Terraces:
Monitor the weather in advance so as not to hinder your vacation.
You need to prepare the necessities you will need, such as bringing supplies, drinking water, and others. As well as some additional items such as a camera. Because you definitely want to capture the moment with family or friends.
Do not forget to bring medical equipment (e.g., soap, wet wipes, medicines, antiseptic).
Prepare your physical and vehicle so that your vacation runs smoothly. You can also visit this village when the rice there is green.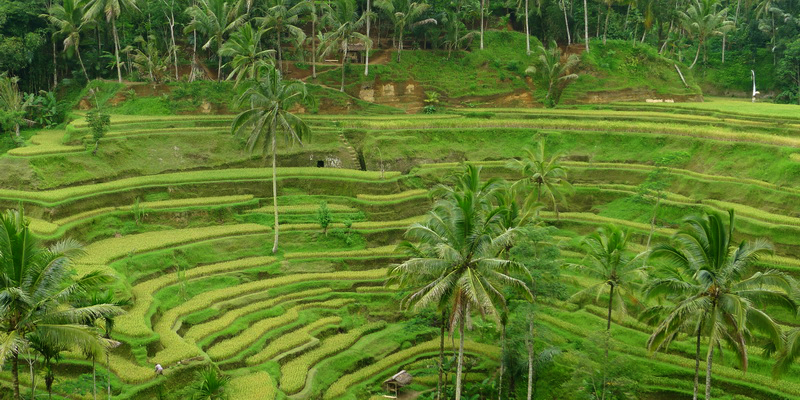 Location of Tegalalang Rice Terraces
Jl. Raya Tegallalang, Tegallalang, Kec. Tegallalang, Kabupaten Gianyar, Bali 80561
Route to Tegalalang Rice Terraces
There are several ways to get to Tegalalang Rice Terraces, but the ones that are often used by tourists are two. The following is the route to Tegalalang Rice Terraces:
– Car motorcycle
Because Tegalalang is only half an hour from Ubud and easy to reach, it is better to use a private motorbike and car, or you can rent a car.
– Tour bus
It is undoubtedly more comfortable and practical to ride a tour bus if you are with a group.