Penglipuran Village: Information, Interesting Things, and Tips – Penglipuran Village's reputation may not be as high as Kuta or Seminyak's. However, the charm of this old-fashioned village is something you won't find anyplace else. Penglipuran Village is known as the cleanest village globally because of its gorgeous scenery and traditional houses. It's interesting to note that trip packages in this area are becoming more widely known in Indonesia and worldwide.
Visiting Penglipuran Village is an adventure you'll never forget. Tourists will be greeted by a peaceful atmosphere and a rich cultural heritage.
Penglipuran Village Offers a Variety of Fun Activities
Despite the small size of the village, the many tour packages available allow visitors to take advantage of a wide range of activities. Penglipuran Village has a lot to offer visitors, including the following:
Surrounding a Magnificent Building with Stunning Design
Penglipuran Village is a popular destination for tourists because of its clean surroundings. As a result, travelers are eager to learn more about the hamlet, its population, and the buildings that make up its landscape.
Traditional Balinese architecture can still be found in the homes of the locals, which are oriented east-west.
The fact that there are temples within the village limits adds to the area's holiness and exoticism. Penglipuran Village vacationers are drawn here by the village's orderliness and attractiveness.
Observing the Daily Routines of Others
It isn't just the architecture and cleanliness of the buildings in Penglipuran Village that draw travelers here. They can observe how locals interact socially, pray, and hold cultural events, none of which occur daily.
Additionally, residents in the village provide a welcome environment for visitors. Pengipuran Village is thought to benefit from this strategy. With the number of tourists who come to the town and take packages around till they are satisfied, the local economy is also boosted.
It's time for a photo
As a result of being named the cleanest town globally, Penglipuran Village has been featured on numerous national television shows, including FTV. Because of this, Penglipuran Village is becoming increasingly popular with local tourists, who come to take advantage of the various tour packages on offer.
Tourists who have purchased a package can enter the town and participate in activities such as photographing or filming.
Tourists are allowed to do whatever they like in the town as long as they don't break any rules or disobey any local restrictions. The community is open until dusk, when all visitors must return home.
Tour of the Culinary Arts
The Penglipuran Village tour package isn't even close to complete without a cuisine tour. There are several small, local shops and eateries in the area.
Tourists can buy and consume a variety of local delicacies at this location. Tipat cantok, a local treat, is Penglipuran Village's culinary offering. Similar to gado-gado, but with a more natural processing method and a distinctly regional flavor.
Then there are the homemade cassava donuts and the herbal medicine known as loloh cemcem. Visitors to Penglipuran Community can get loloh cemcem and cassava donuts while seeing the village.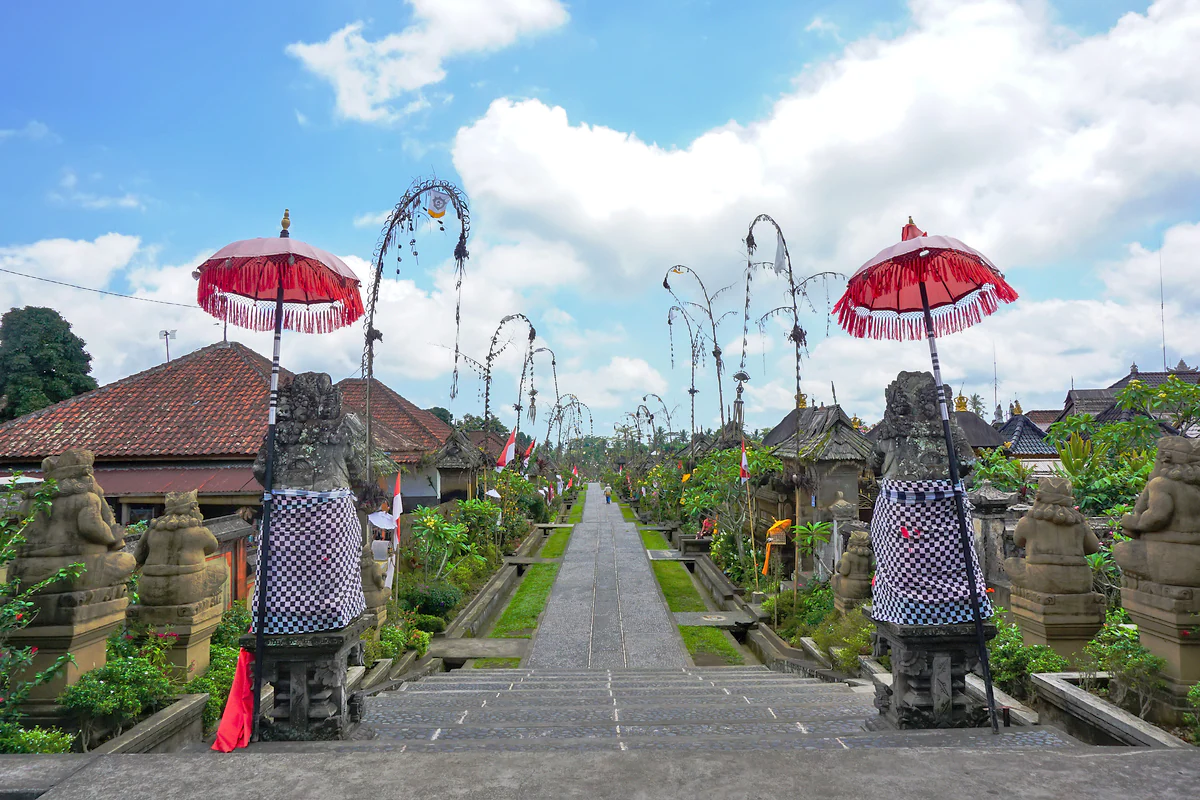 Detailed information about Penglipuran.
If you want to make the most of your Penglipuran Village tour, there are a few things you should keep in mind:
Located at: Rambutan Street, Gang III A1, No. 6, Friends, Kubu, Bangli Regency, Bali
It is possible to take pictures and watch the locals go about their daily lives.
Littering, ruining gardens, destroying offerings from residents, and dressing impeccably are among the things that should not be done.
Visiting Penglipuran Village? Here Are Some Ideas!
Consider the following ideas to ensure that your Penglipuran Village tour package goes as planned:
Abide by all village regulations. Don't harm people's homes or their landscaping. Make your way along the designated route.
The canang or other offerings offered by locals should not be trampled on. Keep your distance from the cymbals and refrain from jumping over them, which is considered dishonorable behavior in this sacred space. Inquire as to whether or not the occupants are allowed to enter. In most cases, menstruation women are not allowed to access the premises. Please bring your own plastic bag, or place trash in the bag.
Objects on the exhibit should not be touched or soiled. Take shots from a distance if you want to capture the moment.
Bring a camera with a full memory card because there are so many unique perspectives to be caught. To ensure a positive experience, be kind and approachable to the locals.
The village of Penglipuran can be accessed
Tourists have a wide range of transportation options available to them. The following are a few examples of them:
Taxi, online transportation, rental cars, and personal vehicles fall under this category.