Pandawa Beach is one of the famous beaches in Bali. As we all know, Bali is an island with ​​5,000 square kilometers with a natural charm that has become a world-famous Indonesian tourist icon.
Beach tourism is indeed a favorite of travelers who vacation in Bali. There are many beaches with natural views and fun tourist activities in Bali. One of them is Pandawa Beach.
This Beach is one of the tourist spots in Bali that is a pity to miss when you are on vacation to the 'Island of the Gods'. So take some time hereafter playing the Tanjung Benoa watersport, huh.
Location of Pandawa Beach
Location Pandawa Beach is located in Kutuh Village, South Kuta, Kab. Badung, Prov. Bali. The Beach, which offers a panoramic view of the blue sea and beautiful white sand, is less attractive than other beach tours in Bali.
Pandawa Beach
Its hidden location and the entrance to the area flanked by two rock cliffs had made Pandawa beach called the secret beach "The Secret Beach," a tourist spot with a calm atmosphere and not as crowded as most beach tourism in Bali. But now, because of the FTV program, this Beach is increasingly known and is always crowded with visitors.
How to get to Pandawa Beach
Access here is effortless; the distance is only about 18 km from Ngurah Rai International Airport and can be reached for approximately 1-hour driving.
While downtown Denpasar is about 27 km, you can get from Denpasar via the Bali Mandara toll road.
Unfortunately, no public transportation goes directly to the Pandawa Beach location. However, you can still go to this Beach with several transportation options such as tourist buses, car rental/rental services, or using a taxi.
8 Bali Pandawa Beach Attractions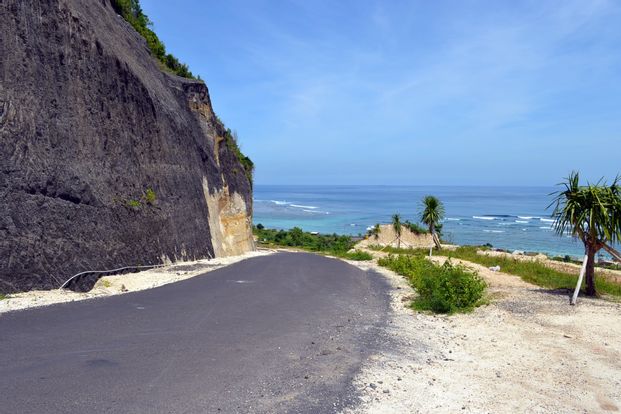 The Pandawa Beach entrance ticket is charged to get to this place: Rp. 8,000 for domestic tourists, and Rp. 15,000 for foreign tourists. As for parking, the price is IDR 5 thousand / car and IDR 2 thousand / motorbike. In addition to relaxing and enjoying the beautiful natural scenery, here visitors can also do a variety of exciting tourist activities, including:
1. Swim and Enjoy the Beauty of the Beach with Freedom
Its beauty is unquestionable. The clear seawater, clean white sand, and relatively calm waves make this place quite safe for swimming activities by the sea.
Interestingly, this Beach is relatively quiet and not overcrowded with visitors, so you can swim as much as you want more freedom.
2. Take a Photo with the Five Pandava Knights Statue in the Background
Its location behind a sturdy cliff makes the natural panorama on this Beach look very exotic. In addition to nature tourism, the manager also incorporates cultural elements on this Beach by placing five statues of the Pandawa Knights between the cliff walls.
You can take pictures or selfies with the Background of the statues of the Pandava Knights such as Arjuna, Bima, Yudhisthira, Nakula, and Sadewa.
The five statues of the Pandava Knights are believed to be "guardians" of the coast who will protect the surrounding area from disaster. The statue is beautifully carved by native Balinese sculptors.
Still, there is also a statue of Dewi Kunti at the exact location, the mother of the five Pandawa Knights. All the figures were built as high as 5 meters and lined up facing the Beach.
3. Sunbathe and Relax on the Beach
Visitors can also relax or sunbathe on the Beach. There are many complete chair rental services and wide umbrellas at affordable prices on Pandawa Beach. Usually available on the right side of the Beach, try to go to that part if you want to rent it.
4. Get Around the Beach By Canoe
Not only swimming, taking pictures, or relaxing on the Beach, you can also canoe on Pandawa Beach. Many canoe rental services are available around the beach location.
The rental rate is quite affordable; for a canoe with a capacity of 1 person, you can rent it at a rate of Rp. 25 thousand per hour. Meanwhile, a canoe with a total of 2 people can be rented at a rate of IDR 50 thousand per hour.
Satisfy yourself to wander around and enjoy the beautiful blue sea against the majestic limestone cliffs by canoe. Just in case, you will also be equipped with a life jacket facility as a safety tool if the canoe is overturned.
5. Paragliding from the Top of Timbis Hill
For those of you who want to pump up your adrenaline by enjoying the beauty of Pandawa Beach from a height, please try paragliding (paragliding) above Timbis Hill.
You can "fly" and enjoy the beauty of the Beach from a height with the character of the cliffs and the right gust of wind.
You can enjoy this exciting tourist activity by taking advantage of paragliding equipment rental services widely available here. The rental rates are pretty varied depending on the type of package taken. Usually, paragliding equipment is rented with rates starting from IDR 400 thousand.
6. Observing Seaweed Cultivation
Pandawa Beach is not only used for tourism purposes and water sports; around this area, precisely on the west side of Pandawa Beach, there is also seaweed cultivation carried out by local residents.
There you can see firsthand the activities of seaweed farmers who work to tie seeds, plant, and dry seaweed.
In fact, tourists are also allowed to get to know and learn how to cultivate seaweed. This activity can certainly be a fun alternative for educational tours when on a Bali vacation.
7. Relax Your Body with Reflexology by the Beach
While relaxing enjoying the beautiful beach view, you can pamper your body by trying out the services of a traditional massage therapist that many local residents offer.
The rates also vary, depending on the type of service selected. Usually starting from IDR 40 thousand to IDR 130 thousand, you can feel the pleasure of a massage to relax the body.
Apart from body reflexology, several other massage techniques are also offered around this place, such as Balinese massage, Pandawa massage, foot reflexology, manicures, and pedicures.
8. Hunt for Unique Crafts for Souvenirs
Traveling is incomplete without shopping for souvenirs. Around the Pandawa Beach area, many shops sell Balinese souvenirs, such as clothes, fabrics, art items, and unique Balinese handicrafts.
The price is also relatively affordable; even if you are good at bargaining, you can get low prices when shopping at shops around Pandawa Beach.
Tourist Facilities at Pandawa Beach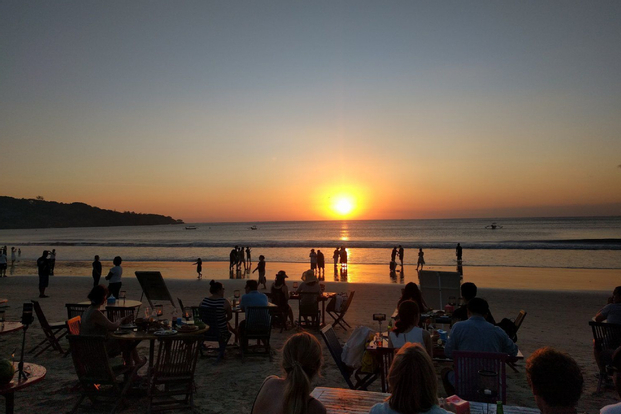 What about the various tourist activities that we have mentioned above? Of course, it will make you more interested in visiting Pandawa Beach, right?
To support the convenience of visitors in their activities at Pandawa Beach, the manager has provided a variety of complete supporting facilities, ranging from parking areas, bathrooms to restaurants.
Bali Pandawa Beach
If you are interested in having a vacation to Pandawa Beach, don't forget to plan it in advance. You can also use the services of a tour package if you want a break to Bali at a more economical cost. Happy Holidays!