Cleanest Villages in the World – Hearing the word 'village,' a beautiful landscape, feels like the number one image. Indeed, not all villages are in a clean condition, and as we know, there has been much pollution around the world. However, do not despair. After looking at the following list of the cleanest villages globally, hope will continue!
1. Mawlynnong, India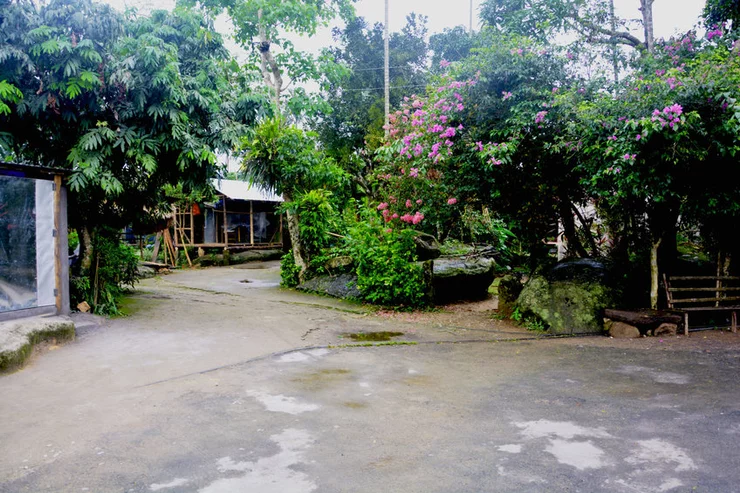 India has around 640,867 villages of various sizes and shapes. Although villages are an integral part of India, they are neglected and considered backward. Villages or cities are looked down upon as dirty and backward places. In contrast, many villages are known for their unique community-based hygiene and care. Mawlynnong is one of them.
The village is located in the Bukit Khasi district of Timur Meghalaya. Mawlynnong is considered the cleanest village in India and all of Asia. This village got its title in 2003. This place is famous for its beautiful natural scenery and waterfalls due to its nature-friendly community-based approach.
The place is blocked by the Khasi tribe, who are also very nature friendly. Mawlynnong Village has a unique system that gives more power to the female family. This system of family administration gives way to women's empowerment. The village is covered with bamboo trash cans so that the dry leaves that fall go straight into the trash can.
While Mawlynnong is beautiful and suitable for traveling at all times of the year, it is more convenient to go there during the rainy season. Mawlynnong is a place where we can learn a lot about nature and, hence, visit at least once.
2. Idukki, India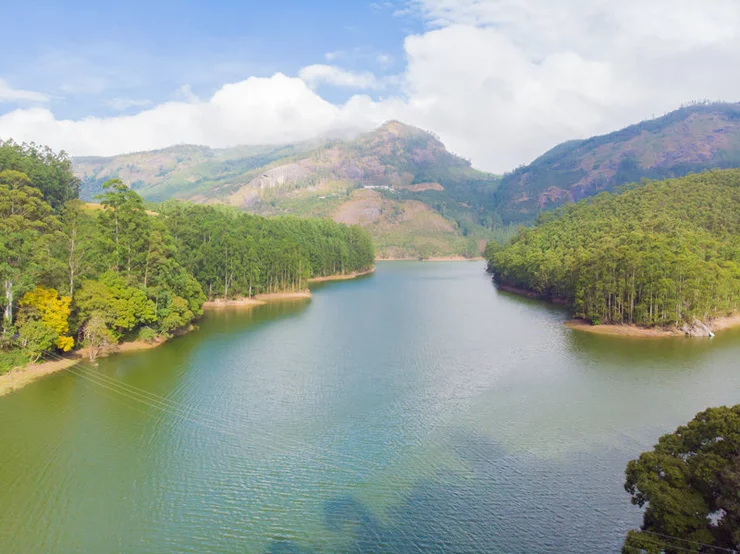 Idukki is located in Kottayam District, Kerala. This village has much beauty and is famous for its natural beauty. Despite being the second-largest district, Idukki has a tiny population. Has a large protected forest area. It is surrounded by mountains and lush green forests and is known for its greenery. Idukki is known for several tourist spots such as Thekkady, Munnar, Vegamon, Marayur, and wildlife sanctuaries. The village is also known as the spice garden of Kerala. All of its natural wealth makes Idukki Village an ideal tourist spot. Idukki is said to be one of the cleanest villages in India. It is primarily known for its lush green landscape.
3. Penglipuran, Bali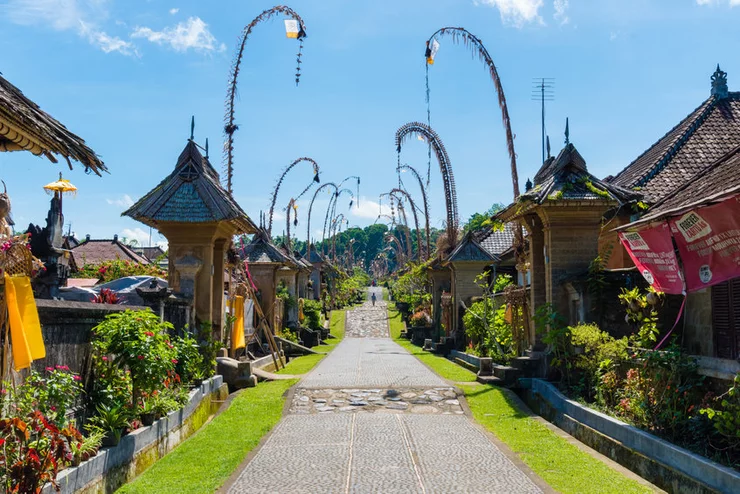 If you thought Bali was only known for sun, sand, and roaring waves, then you need to venture further because this enchanting island has so much more to offer. Among the views of lush rice fields and beautiful hills, there is the cleanest village globally, complete with Balinese houses with an authentic traditional way of life that is still practiced by the people today. One of the villages that stands out and is recognized among the three cleanest villages globally is Penglipuran village. Penglipuran is considered one of the most immaculate villages globally, along with Giethoorn in the Netherlands and Mawlynnong in India.
Penglipuran Village is a beautiful highland village in Bangli Regency in East Bali (one hour drive from Denpasar city), famous for its culture and well-preserved village layout. Located not too far from Kintamani and nestled along the hilly countryside, Penglipuran Village is a beautiful and well-maintained village of wide brick streets lined with rows of charming antique traditional houses interspersed with immaculately manicured gardens. The town is built traditionally, staying true to the conventional methods of bamboo architecture.
To be sure, the beauty of the village radiates from its cleanliness. Because here, the importance of environmental awareness is an inseparable part of everyday culture and is taught from early childhood from generation to generation. Neither local villagers nor tourists are allowed to litter, while smokers are only allowed to smoke in certain smoking areas. As part of an environmentally friendly activity, all village housewives gather to collect and sort waste every month. Organic waste will be processed into fertilizer while plastic and other inorganic waste is sold for recycling or collected in "waste banks."
Visitors can visit this village at any time of the year. Still, the best time to visit Penglipuran is before the Galungan religious holiday. On these days, the town will be decorated with rows of "penjor" or decorative bamboo poles hung with unique accessories.
4. Giethoorn, Netherlands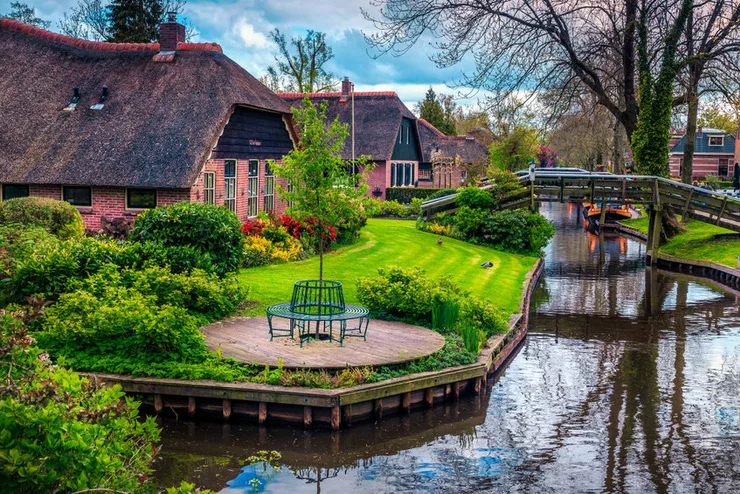 If you use Pinterest, you've probably seen a photo of the town of Giethoorn in the Netherlands. Touted as a beautiful and serene place, with no roads and almost no people (maybe just a few cows on the boat), it looks like the perfect place for a peaceful getaway.
Giethoorn is a village in the province of Overijssel, Netherlands. It is about an hour and a half drive from Amsterdam and is known for its beauty because it has few roads, and most of the village can only be reached by foot or boat. Many canals and bridges (more than 180 bridges) add to the charm of its beauty. Most houses and cottages have thatched roofs, so you can step back in time, admire the beautiful places and maybe stop for lunch at one of the canal-side cafes or restaurants.
One fun that locals seem to be very proud of is that Giethoorn beat around 182 competitors worldwide to become the goal at the 80th anniversary of the 2015 international edition of Monopoly.
Technically, Giethoorn Village does have roads and even a car park. Still, a large section in the center is only accessible via a trail or canal. Some Giethoorn residents can only access their homes via a channel, which is sure to make for some excellent grocery shopping and housewarming!
5. Ziro, India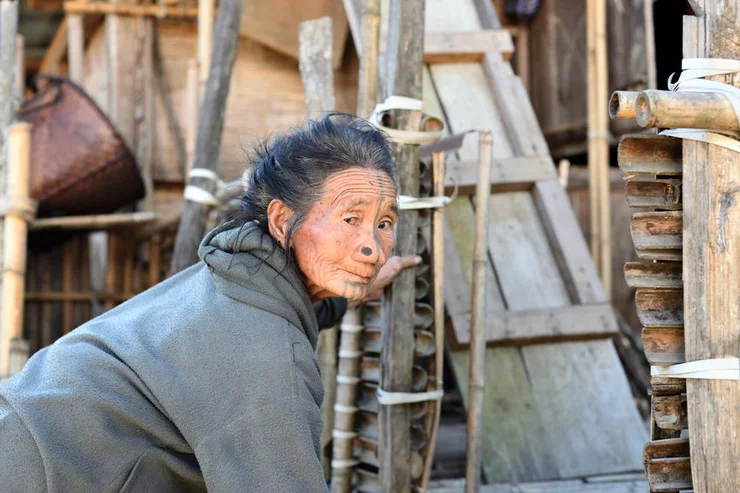 Ziro is a beautiful & clean village in Arunachal Pradesh. This village has also been listed in UNESCO for its unique beauty. It is famous for its bamboo trees and gently sloping hilly landscape. And there are several places worth visiting, such as Tarin Fish Farm, a unique fishing spot where you can fish with your bare hands.
Then there is the Meghna Cave Temple, dedicated to Lord Shiva and trekking Dolo Mando. In the rainy season, the village turns into a lush green landscape. Ziro is famous for its music festivals where musicians from all over India come and perform. Overall, Ziro is a lovely place to visit.