Monkey Forest in Ubud Bali: Attractions, Information, and Tips – Monkey Forest Ubud is a unique tour package in the Bali area. As the name suggests, there are hundreds of monkeys in this sacred forest, and it has a temple. Every day, the holy and guarded apes by the locals descend to the ground and interact with the tourists who come.
The charm provided by Monkey Forest in Ubud is not only that. Many exciting things will make a vacation package here run perfectly. For complete information regarding this sacred monkey forest, see the description below.
Ubud Monkey Forest Attraction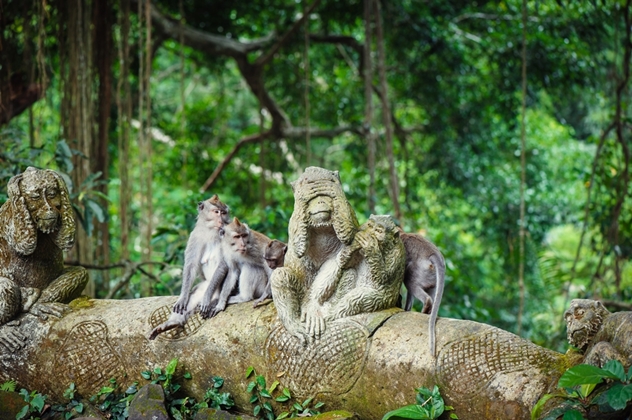 Tourists who come here can do many exciting things, including:
Interact with Monkeys
The main thing that attracts tourists to come and choose the Monkey Forest Ubud tour package is interacting with the monkeys. During this time, wild apes always stay away from humans and spend most of their days in trees. However, the monkeys in this place interact more with tourists who come.
Although interaction with monkeys can be done quickly, tourists are advised to obey the rules still. Even though they look tame, they are still wild animals that can hurt anyone who gets close. You are advised not to force yourself to have a two-way interaction so that the tour here runs smoothly.
Visiting the Temple in the Forest
In addition to interacting with monkeys, tourists can also visit sacred temples in the forest. There are several temple buildings in this area first, used as a playground for the monkeys; second, which is bigger and is used as a place of worship by residents.
You are advised to visit the more prominent temples only. For smaller temples, tourists see it from afar. Some monkeys consider the area their territory so that anyone who comes can be attacked. These two temples are already one ticket package with the forest area.
Watching Monkey Activities
The descent of the primates from the trees and doing activities on the ground is undoubtedly an attractive spectacle package. Tourists who have a photography hobby can shoot monkeys with a camera, from their movements that want to approach tourists, hanging from trees to monkeys relaxing in temple buildings.
Tourists can take various poses from these primates. However, when taking pictures, the camera must be held firmly. Some monkeys often act mischievous and grab the camera because they find it interesting. For the photography activities in this tour package to run smoothly, tourists must always be careful.
Enjoy the Calm Atmosphere
The last thing that can be done by tourists who take a tour package to Monkey Forest Ubud is to enjoy the tranquility. In the morning or late afternoon, the atmosphere becomes very calm and suitable for relaxation. You can walk in the middle of the forest through the path provided by the manager.
Although the area off the beaten track is lovely, like having a natural river flow, tourists who take this package are advised not to enter because it is dangerous when the monkeys attack suddenly. So, staying on the specified path is the right choice when visiting.
Ubud Monkey Forest Information
For the tour package trip to Ubud Monkey Forest to run smoothly, pay attention to the information below:
Location: Monkey Forest Street, Ubud, Gianyar Regency, Bali
Operating hours: 08.30-18.00 WITA
Things to do in this area is to visit temples and take photos
What is prohibited is further interaction with monkeys.
Tips for Visiting Ubud Monkey Forest
Some tips that must be done when visiting Monkey Forest Ubud are:
Do not bring items that are too shiny, such as jewelry. The monkeys here are very interested in such things. Put the object in a vehicle such as a car, so the monkeys don't come and take it by force.
Don't interact too closely. Forest managers forbid anyone to give food to monkeys because it can make the animal fall sick or even attack if it feels that the food is lacking. Interaction can be done naturally.
If the monkey grabs something by force, don't hit it right away. This can make the monkey angry and attack.
The best time to come here is 15.00-16.00 WITA because the monkeys are complete and there is no desire to attack.
Transportation
Several means of transportation can be used to visit Monkey Forest Ubud. Here are the recommendations:
Rent car
Public transport
Online transportation
Taxi.
The best transportation is a rental car because tourists can be more flexible when visiting Monkey Forest Ubud. Online vehicles are sometimes hard to come by, and taxis are too expensive.