Not only Babi guling! 12 Delicious Balinese Foods You Must Try! – Another thing that is usually synonymous with travelling is culinary. Many people say that it doesn't feel right when you go for a walk, while culinary or enjoying special food from the area you visit.
One culinary in great demand is the culinary originating from the Island of the Gods. Yup, Balinese food is not missed, especially if we are visiting the island.
There are various kinds of typical culinary that we can try in Bali. There is everything from dishes cooked with lots of spices to cakes as desserts. Immediately, let's see Balinese food.
Famous Balinese Food
Bali is a province in Indonesia with a capital named Denpasar. It is one of the highest tourist destinations in Indonesia because of its natural beauty and special food.
Traditional Balinese food has been influenced by Chinese, Indian, and Middle Eastern cuisine. The basic ingredients of Balinese food are chilli, garlic, shallots, and coconut oil.
Different regions of Bali have different flavours and interesting histories. Various spices and fresh ingredients will be added to create an extraordinary taste depending on the dish. If you want to visit Bali shortly, let's try some of the lists of traditional Balinese foods below.
1. Betutu Chicken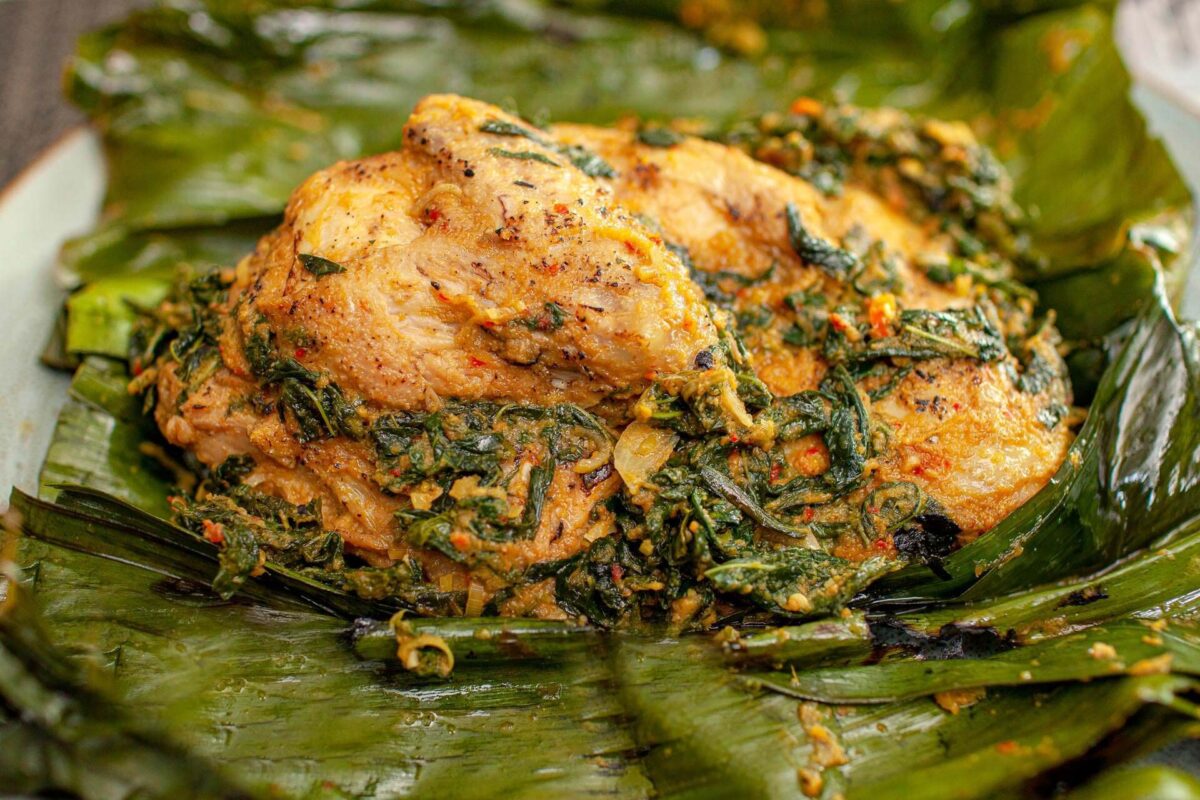 First Balinese Foods, Tis name of this Balinese food must be familiar. If you are on vacation in Bali, you will definitely see this one menu in almost all eating places.
Ayam betutu is made from chicken spices, which are Balinese spices made from a mixture of lime leaves, lemongrass, salam, turmeric, candlenut, ginger, shallots, and others definitely made from herbs.
This seasoning will later be inserted into the cavity inside the chicken's body before cooking. The herb is perfectly absorbed in the processed chicken and tastes delicious.
There are various ways to cook chicken betutu. Namely, betutu played (wet betutu) or baked (dry betutu). Which one is your favourite?
2. Sate Lilit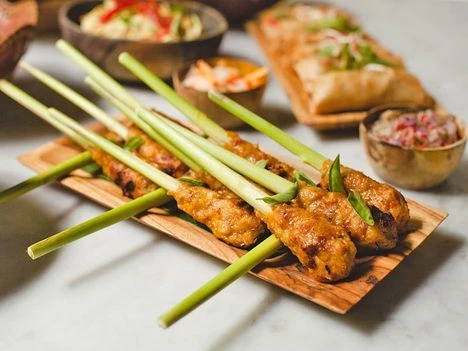 Not only is Jakarta and its surroundings famous for sate taichan, but Bali also has a special food in the form of satay, namely satay lilit. This Balinese food can be made from ground chicken or fish.
The meat is then mixed with grated coconut, then wrapped around thick bamboo or lemongrass sticks. This satay is delicious eaten together with Balinese mixed rice.
Many also sell it separately with chilli sauce as a dipping sauce to accompany the satay.
3. Balinese Mixed Rice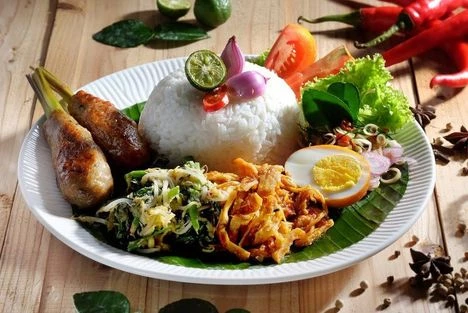 As mentioned above, it's incomplete if you don't talk about Balinese mixed rice. This dish consists of warm white rice, topped with satay wrap, shredded chicken Sisit with Basa Genep Bali seasoning, vegetable urap, and chicken lawar.
But there's one more thing that you shouldn't miss, namely sambal matah and sambal embe, typical of Bali.
Already available this one typical Balinese food, the taste must be ringing.
4. Troops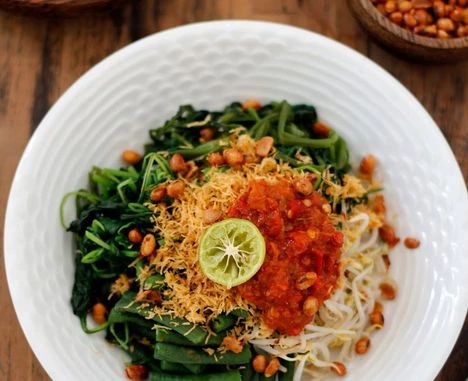 Who love vegetables? If so, then this Balinese food should not be missed, it's called serombotan. This dish serves a mixture of vegetables such as long beans, spinach, kale, green beans, round eggplant, bean sprouts, and bitter gourd.
These vegetables are then combined with a spice called Kalas, a kind of coconut milk containing a mixture of mashed turmeric, galangal, shallots, garlic, coriander and kencur.
Kalas itself is mixed again with peanut sauce and spicy seasoning.
5. Lawar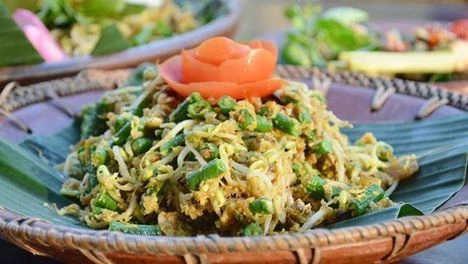 Another typical Balinese food made from vegetables is lawar. Lawar is made from long beans, jackfruit, and grated coconut, then mixed with Balinese spices.
Lawar itself has various kinds, you know, there are lawar kuwir (containing mutton meat), chicken lawar, and pork lawar, all depending on the contents of the lawar itself.
In addition, there is also lawar which is divided by colour, namely white lawar and red lawar.
This lawar dish is certainly more delicious and delicious when eaten with white rice, wrapped satay and jukut areas. Want to try?
6. Laklak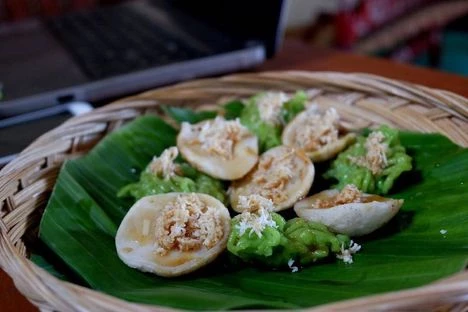 Laklak is a Balinese version of pancake cooked using a traditional jug over high heat, then covered until the dough expands.
Its unique cooking technique and size are smaller but thicker, resulting in a crunchy texture on the outside but soft on the inside.
In contrast to pancakes in general which are softer and then doused with coconut milk, laklak is sprinkled with grated coconut and brown sugar syrup.
7. Komoh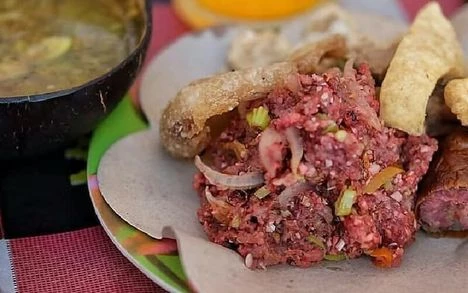 Have you ever tasted komoh? This is a typical Balinese food that has been famous for a long time. Komoh is usually served during traditional ceremonies.
This dish contains raw meat, which is served chopped, then given special spices such as red chillies, garlic, shallots and salt.
Komoh is usually served with other foods such as lawar and fried muluk.
8. Rujak Buleleng Bali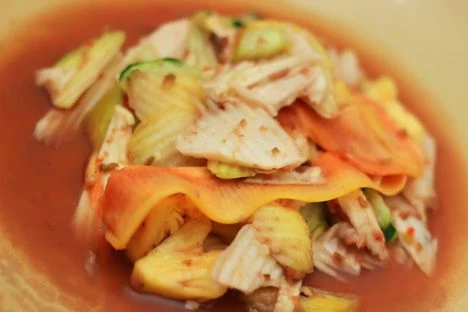 Not only does Jakarta has Betawi rujak, but Bali also has rujak, you know, the name is Rujak Buleleng. Like rujak in general, this dish consists of various fruits that are cut in one container and then spread evenly over the rujak seasoning. This salad has a fresh and spicy taste.
At first glance, it is similar to other rujak-rujak, but the spices or chilli sauce make it different.
We all know that normal rujak, often marketed, will separate the spices from the fruit, eaten by dipping the fruit with the sauces.
The ingredients used to make Buleleng rujak seasoning are Buleleng palm sugar, vinegar, shrimp paste, salt, cayenne pepper, and what is different is the presence of stone bananas.
The purpose of adding these types of bananas is to give an astringent taste after all the spices are combined by kneading. Curious to try? Don't forget to taste the Buleleng salad if you go to Bali
9. Jinggo Rice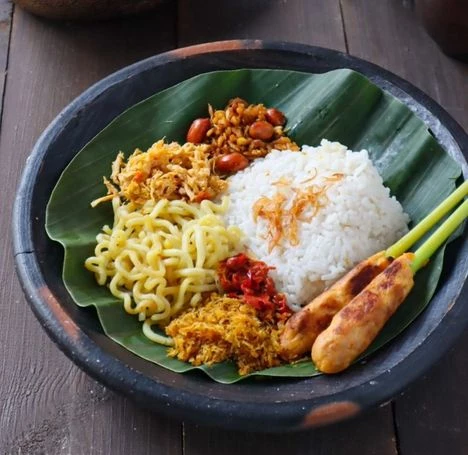 One of the famous Balinese foods and not to be missed, of course, is Nasi Jinggo. This is a typical Balinese fast food packaged in small portions of banana leaves. It resembles cat rice, but it tastes more savoury and a little spicy.
Wrapped in banana leaves and an elongated cone, Nasi Jinggo is often served with meat, noodles, sambal goreng tempe, and chilli sauce. Not infrequently, someone adds satay wrap for a more complete portion.
Because the portions are small, it's not uncommon for this jinggo rice to be sold at quite affordable prices, you know!
10. Bubur Mengguh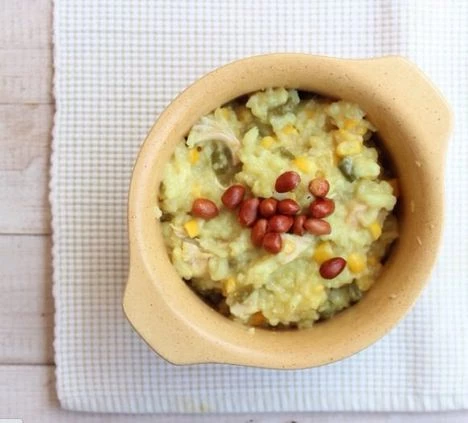 Another famous Balinese foods is Mengguh porridge. This is a kind of porridge originating from Buleleng, Bali. It is said that historically, this savoury dish has become an important meal for the Balinese people because it is one of the mandatory treats to be served at festivals or traditional ceremonies.
Bubur Mengguh is stuffed with spices, shredded chicken, peanuts, and celery. Often Mengguh porridge is served with urap, vegetable salad with coconut milk.
The warm, freshly cooked porridge is perfect for breakfast or the rainy season.
11. Nasi Tepeng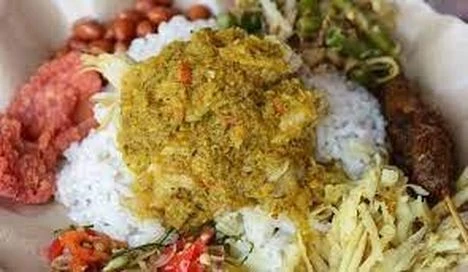 Nasi Tepeng is a local Balinese dish from Gianyar. Although it is popularly known as Yepeng rice, the texture is soft like porridge. The soft and mushy grain is perfect to be enjoyed with a special blend of spices and seasonings.
In Gianyar, Nasi Tepeng is a common breakfast food for locals. It is usually served with fried chicken, egg, jackfruit, nuts, and eggplant. Its tantalizing aroma in the morning is a delight in itself.
12. Chicken Tum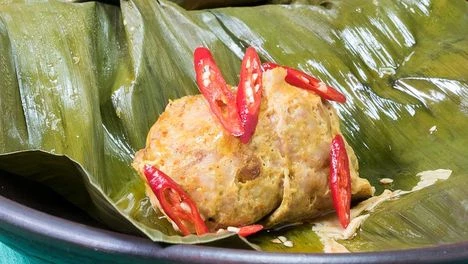 Bali culinary lovers and their history, let's try this one menu. This is Tum Ayam, which is a spiced chicken dish that is neatly wrapped in banana leaves. The meal consists of minced chicken or beef mixed with ground spices such as garlic, shallots, chillies, bay leaves, ginger, lemongrass, etc.
Everything is put together, making it perfect for a main dish or snack on the go.
Source : https://www.orami.co.id/