Wedding Venues in Bali for a Perfect Nuptial Ceremony – Bali has some of the most captivating and luxurious wedding chapels and resorts with breathtaking views of cliffs, rain-forest, lakes, and oceans. Over the years, Bali has proved that it is not just an exotic holiday destination but has the potential to host the most amazing weddings. In fact, destination weddings in Bali are becoming a popular trend, globally.
Bali is famous as the island of a thousand temples that are familiar to foreigners. Apart from being a place for vacation, Bali also has many beautiful locations for photo shoots. In Bali, you are offered a lot of amazing natural beauty. You can use shooting locations with sunsets and waves in the background, beautiful rivers, hills, or royal palaces. The following pre-wedding locations in Bali are as beautiful as a fairy tale.
Here are the 5 gorgeous venues for that fairytale destination wedding in Bali, for you to choose from!
1. Pandawa Beach
Pandawa Beach could be the best-kept secret on this list. Its name, which is not as popular as Kuta Beach or Dreamland, makes this beach suitable as a pre-wedding photoshoot location. Located in Kutuh Village in southern Bali, Pandawa Beach is hidden behind towering limestone walls.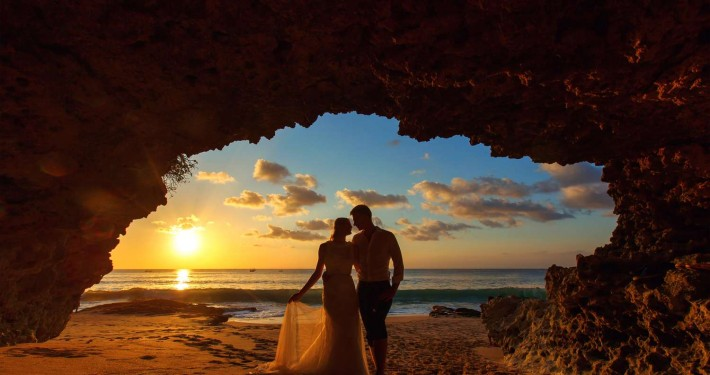 There is only one access to get to this beach, namely through a road that divides the limestone wall. It is undeniable that this hidden beach is really charming with its white sand and blue waves. And what makes it even more unique, on the limestone cliff walls are sculptures of 5 large puppet figures that you can use as photo backgrounds: Yudhistira, Bima, Arjuna, Nakula, and Sadewa – five brothers known as the Five Pandavas.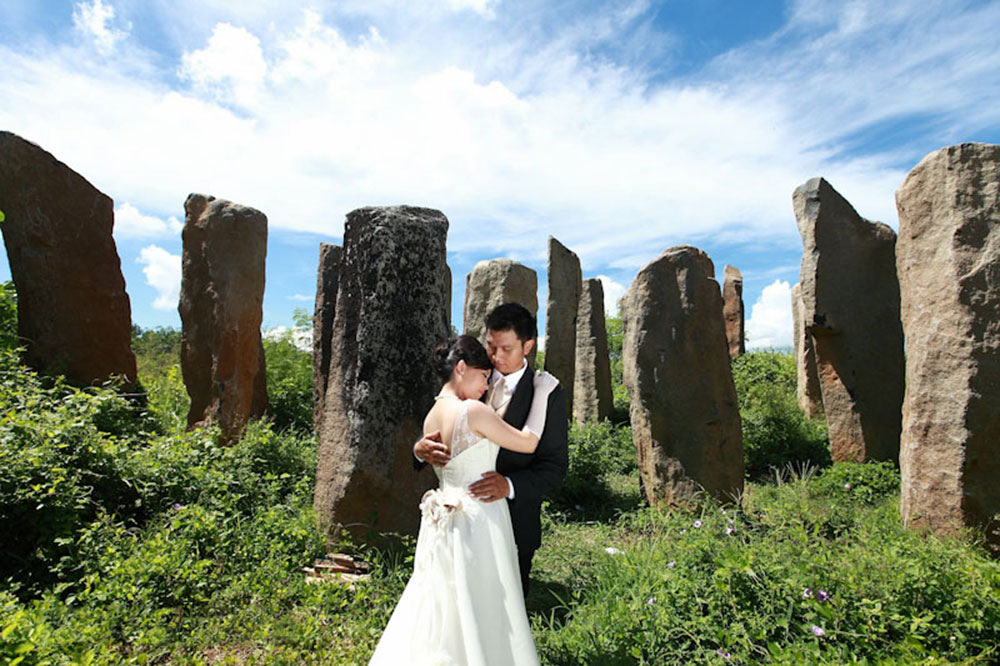 But the most interesting part of this beach is definitely the entrance which is between two giant limestone walls. Doing a photo shoot here will certainly produce very epic photos.
Jl. Pandawa Beach, Kutuh Village, South Kuta, Badung Regency 80364.

Location
2. Taman Ujung Sukasada – Karangasem.
Do you want a pre-wedding photo with a royal palace background? There is nothing wrong with visiting Taman Ujung Karangasem or what is often called Taman Ujung Sukasada. Taman Ujung has a royal architecture with the characteristics found in the building which combines Dutch, Arabic, and Balinese architecture.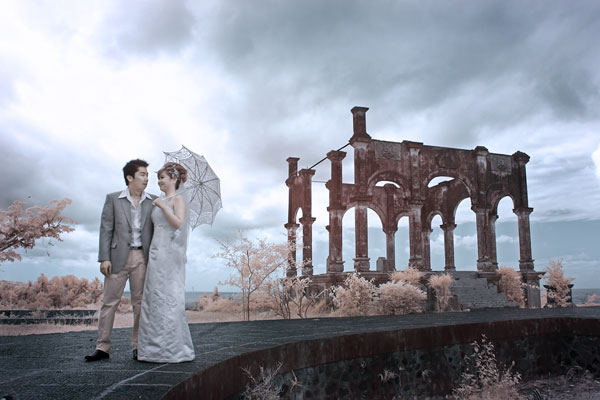 In addition, in this park, there are also two very large ponds. If you want to take photos in the middle of the pond, you can rent a boat provided by the manager of Taman Ujung Karangasem.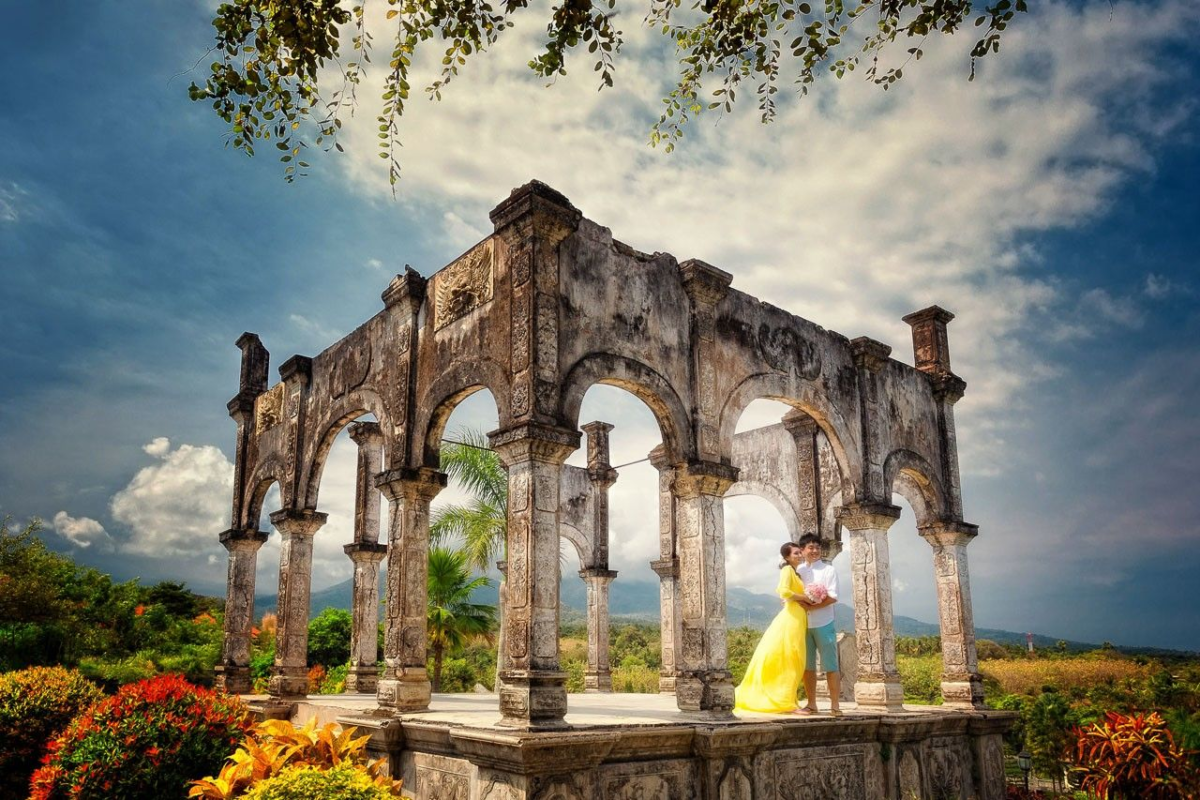 By paying the entrance fee for pre-wedding photos, you are entitled to bring your vehicle into the Ujung Park area and are entitled to get a changing room and make-up room.
3. Like a fairytale – Teletubbies Hill
Located in Nusa Penida (an island off the southeast coast of Bali), Teletubbies Hill is a vast plain of small hills covered in green grass, ferns, and lavender. For some people, this view reminds them of the landscape of New Zealand, but this magical place is called Teletubbies Hill because at first glance it resembles the hills where the Teletubbies live in the children's TV series.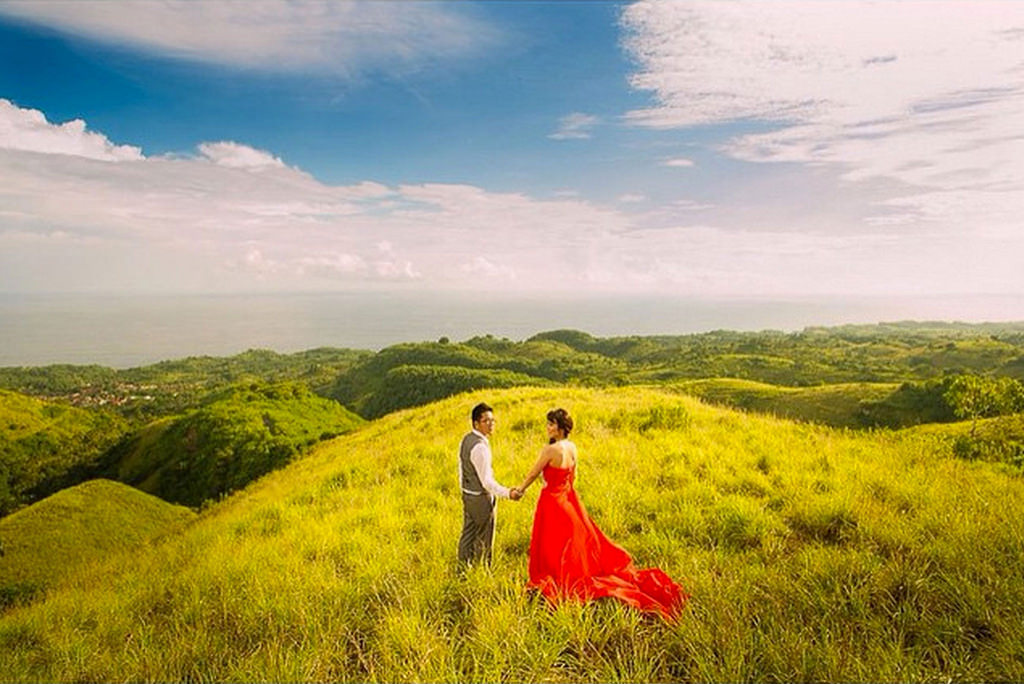 Apart from the sunlight, the panoramic view of the hills, and the trees, all you need to get beautiful pre-wedding photos here is of course your partner and a good photographer.
Of course, the results of your pre-wedding photos will definitely be amazing with the golden sunlight. For maximum photo results, if possible, do not visit this place during the dry season, because the grass will dry out and become brownish in color.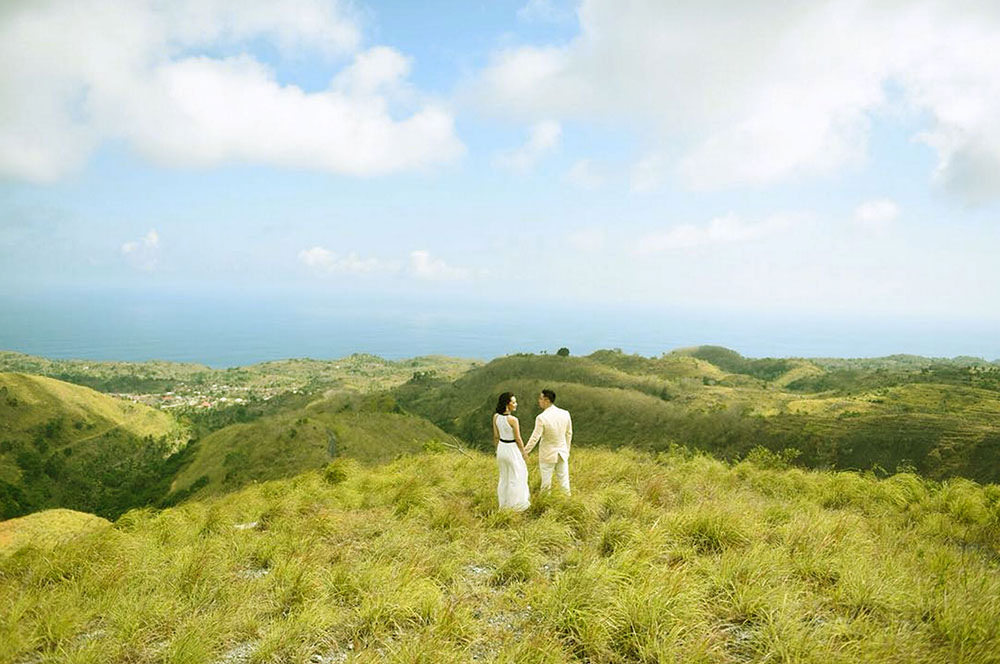 And one more thing to note, given that this area is not as developed and commercialized as Bali, don't expect to find modern equipment or expensive items for sale here, so it's best to prepare all your own needs.
4. Precious moments on a tropical island – Nusa Lembongan
Want your wedding photos to be enhanced by sunshine, trees, cliffs and the ocean?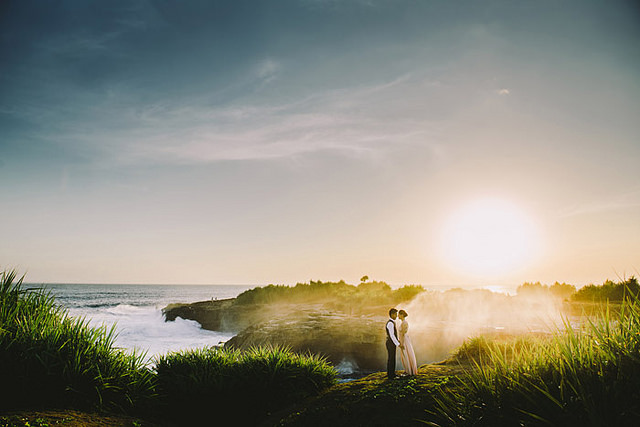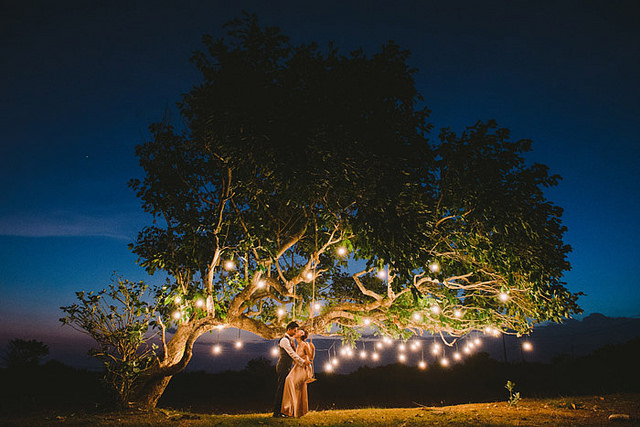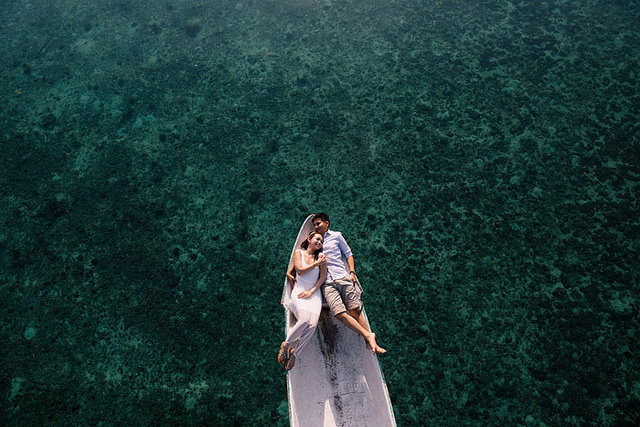 Then head to Nusa Lembongan. This small, unpopulated tropical island offers many stunning locations for an unforgettable experience.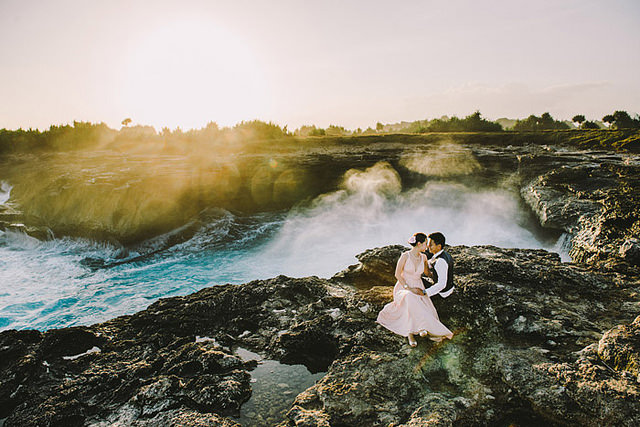 Strolling along the coastline, making out on a boat in the crystal clear ocean or standing on a towering cliff – these are all moments you'll cherish forever.
Nusa Lembongan

How to get there: Getting to Nusa Lembongan requires you to cross from Sanur or Benoa Harbor using a ferry or fast boat.

Location
5. Hrouded in mist and mystical atmosphere – Lake Tamblingan
A very dramatic photography location, Lake Tamblingan can be upbeat or moody depending on the weather conditions. And if you go there in the morning when the sun is just rising, then you'll be able to witness a thick mist covering the surface of the lake.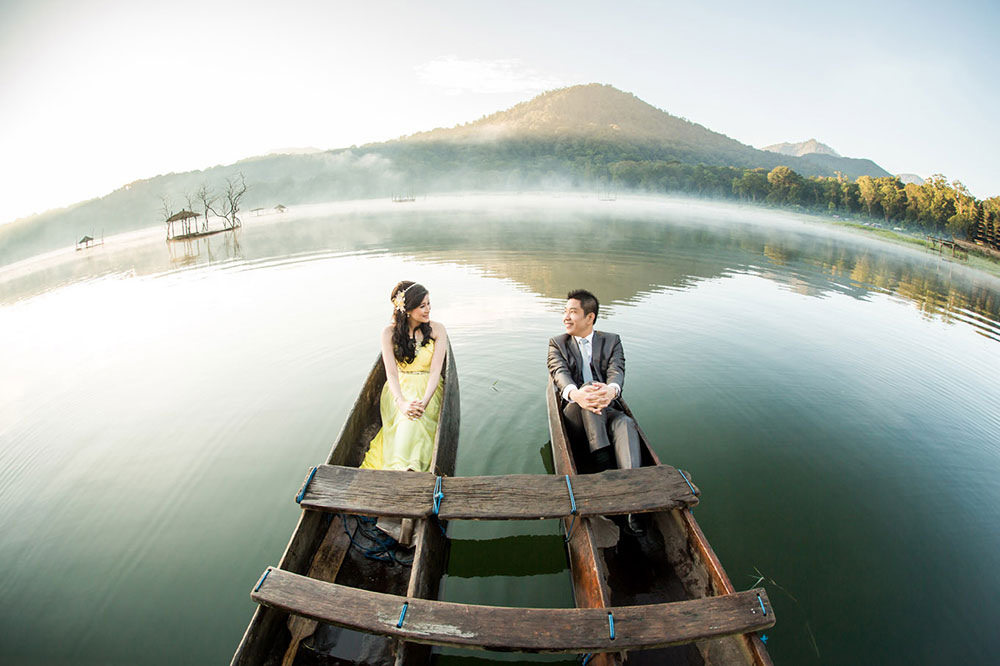 Tamblingan Lake is located on the northern slope of Gunung Lesung. Besides being beautiful, the lake is also a geological phenomenon as it sits in a caldera formed when the mountain erupted. The main attraction of this place is not only its natural charm, but also the many temples around it, one of which is Pura Gubug which will add a mystical impression to your photos. This temple was abandoned after being flooded due to heavy rains some time ago.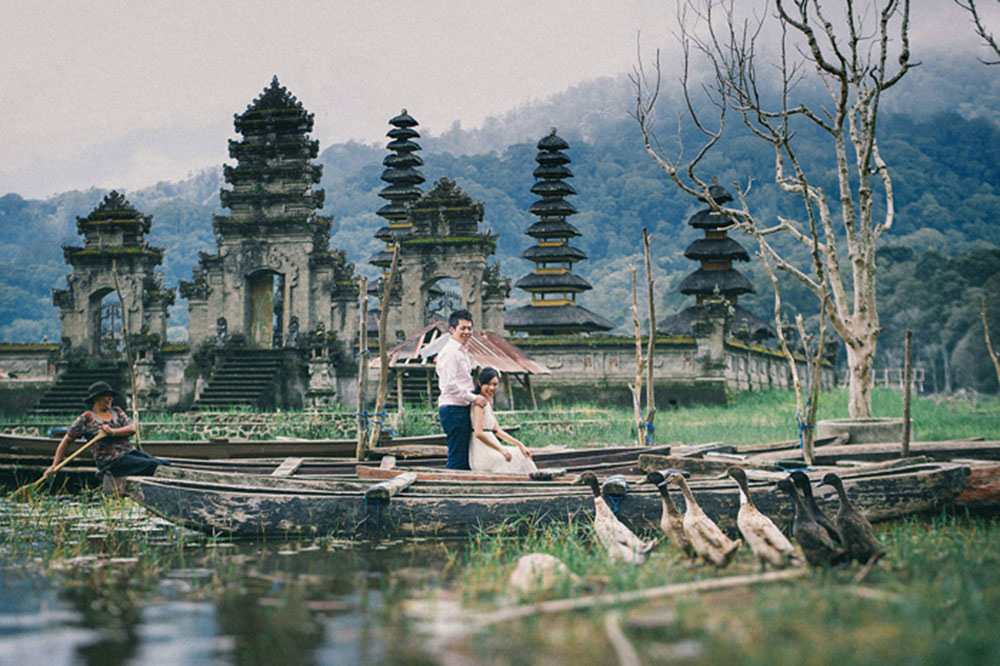 You can take pictures on the boat, or on the land with a backdrop of forest, mountains, temples, and dry trees. This pre-wedding shoot location is certainly perfect for those of you who love a mystical atmosphere.
Munduk Village, Banjar District, Buleleng Regency.

Location
Well, those are some of the Wedding Venues in Bali we recommend for your nuptial ceremony, hopefully it helps
For you interested in having your prewedding photos taken in Bali, some places may charge a fee for the shoot.

This article may include prices or fees for on-site shoots, but those prices may change at any time due to economic and other circumstances.The photos in this article are also sourced from other articles.

Disclaimer.