Suluban Beach Uluwatu Bali – The island of Bali has always been a favorite destination for travelers seeking natural beauty, art, and culture. Whether you are traveling with friends, family, or alone, you will be fascinated by the beauty and uniqueness of Bali tourism.
The main attraction of Bali tourism is that it has many interesting attractions to visit. Good for tourists who are on vacation with family with children, or tourists who are on honeymoon.
If you are currently looking for the best beach destinations in southern Bali, with the criteria of offering sunset views, rock views, and white sand. Then Suluban Uluwatu Beach is one of the beaches in southern Bali that must be on your Bali vacation itinerary.
Therefore, if you are interested in knowing more details about Suluban beach Uluwatu tourist attraction, please continue reading this page! Because on this page you will find a vacation guide to Suluban beach Uluwatu Bali. Such as dance power, transportation, scenery, the meaning of the name, and the best way to get to the location.
Suluban Beach/Blue Point Beach Uluwatu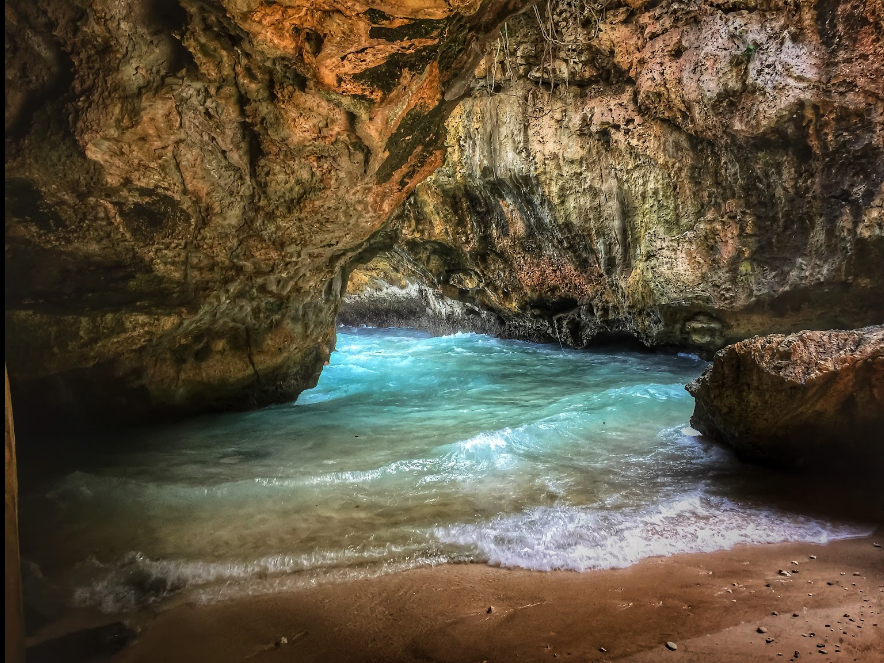 Uluwatu Bali tourist attractions, in addition to having tourist attractions in the form of a Hindu temple, namely Pura Luhur Uluwatu which is on a cliff with a view of the sunset. Uluwatu tourist area also offers white sand beach attractions at a distance of about 3 kilometers from Uluwatu Temple.
There are many beach attractions in the Uluwatu area. One of them is Suluban Uluwatu beach. But among Australian tourists, Suluban beach is more famous as Blue Point beach Uluwatu.
You must be asking why the name is different. Is the beach the same? Between Suluban beach and Blue Point beach, Uluwatu is the same beach, the location is the same and there is no difference at all. So what is different is only the name.
The beginning cause of Suluban Uluwatu beach is called Blue Point beach. Because previous tourists did not know the real name of this beach. Because there is a hotel above Suluban Uluwatu beach called Blue Point hotel. So to make it easier to remember, Suluban beach is called Blue Point Uluwatu beach.
Attractions of Suluban Uluwatu Beach Bali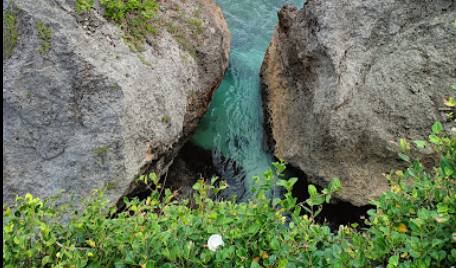 Suluban Beach in Uluwatu Bali, I can say is one of the unique beaches in Bali. The uniqueness of Suluban Beach Uluwatu is in the hidden location of the beach because it is covered by high coral cliffs.
In addition, the uniqueness of Suluban Beach Uluwatu is in the access to the beach area. Every visitor who wants to set foot on Suluban Beach Uluwatu must go down the stairs. In addition to passing through the stairs, visitors also pass through a natural rock gate that rises high and looks like a cave.
Blue Point Beach is a beach with steep cliffs and fairly large waves. So Blue Point Beach Bali is more suitable for tourists who like to hang out on the beach or hobby surfing. Therefore, if you vacation at Blue Point Uluwatu beach, you will see many Caucasian tourists doing surfing activities.
Suluban Beach, also known as Blue Point Beach, is a popular spot for surfing, swimming, and sunbathing in Bali, Indonesia. Here are a few things you can do at Suluban Beach:
Surf: Suluban Beach is known for its great waves, which make it a popular spot for surfers. Whether you're an experienced surfer or a beginner, you can find a wave to ride at Suluban Beach.
Swim: The water at Suluban Beach is crystal clear and perfect for swimming. Take a dip to cool off or just enjoy the feeling of the water on your skin.
Sunbathe: The sandy beach and warm sun make Suluban Beach a great place to relax and work on your tan.
Hike: There are several hiking trails in the area surrounding Suluban Beach, offering beautiful views of the coast and the surrounding countryside.
Explore the caves: There are several caves located near Suluban Beach that you can explore. These caves are a popular attraction and offer a unique perspective on the coastline.
Take a photo: The stunning blue waters and rugged coastline make Suluban Beach a great place to snap some photos. Whether you're using a professional camera or just your phone, you'll be able to capture some beautiful shots of the beach.
Tips for Vacation to Blue Point Beach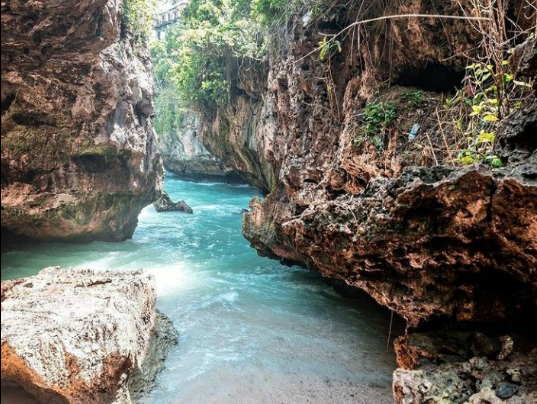 For information, in the Uluwatu Bali area, there are many long-tailed gray monkeys that are usually seen in the Uluwatu Temple area. When you are at Blue Point Beach, you will also see some monkeys in the cliff area.
Therefore, if you are carrying belongings such as glasses, earrings, and other valuables, please be careful. The tendency of these monkeys will take your valuables if you are not watching or swimming on the beach.
In addition, there are several items that you must bring when visiting the beach so that you are comfortable while at Blue Point beach.
Wear a hat, because the sun is quite hot in the Uluwatu tourist spot area.
Use sunglasses.
Remember to wear sunblock to protect your skin from the sun.
Always remember to bring mineral water and snacks, because you must be thirsty when going down or up the stairs.
When going up and down the stairs, walk leisurely and take your time and avoid rushing.
If you want to swim, remember to bring a towel.
Suluban Beach Location & Address
Suluban Beach is located in Pecatu Village, Uluwatu, South Kuta, Badung Regency, Bali. The location is not far from Padang Padang Beach.
For those of you who need a map to find the location of Suluban Uluwatu beach, please use Google Map by clicking the link below.
See, "Suluban Beach in Google Map" >>>