Bali time goes fast and don't we know it! Let's face it, things can take a long time when you're navigating traffic that appears with no rhyme or rhythm throughout the day. Ever wish you could hire someone to run chores for you so that you can spend every moment lying by the pool, enjoying sunsets, and sneaking Bintangs in between massages?
Someone to send off into the chaotic, hot streets of Bali to pick up a bag of ice to make frozen margaritas with, or maybe you just want someone to go down the road to grab you one of the best burgers in town? If not, you've probably at least wished for a scooter or taxi that knows exactly where you are, someone that you can contact by phone if you need to, and someone who offers a pre-determined, fairly fixed price.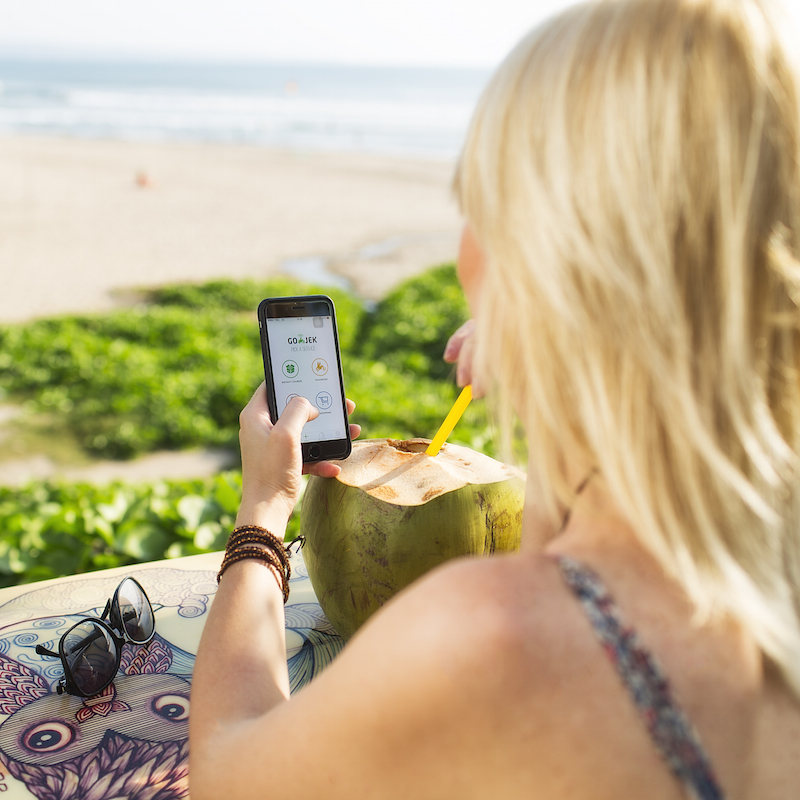 Gojek is the solution. They provide transport, courier, shopping, and food delivery services – all accessible to you via a few clicks on your phone. An original concept exclusive to Indonesia, Gojek is the one-stop app for all of your Bali needs. Born in Jakarta (where the traffic is said to be the worst in the world), the service is an absolute game changer! Some of you may already have noticed the influx of green helmet and jacket-ed drivers cruising the streets on scooters, taking passengers, in restaurants buying takeaways for home delivery orders, in offices delivering documents, or in malls shopping.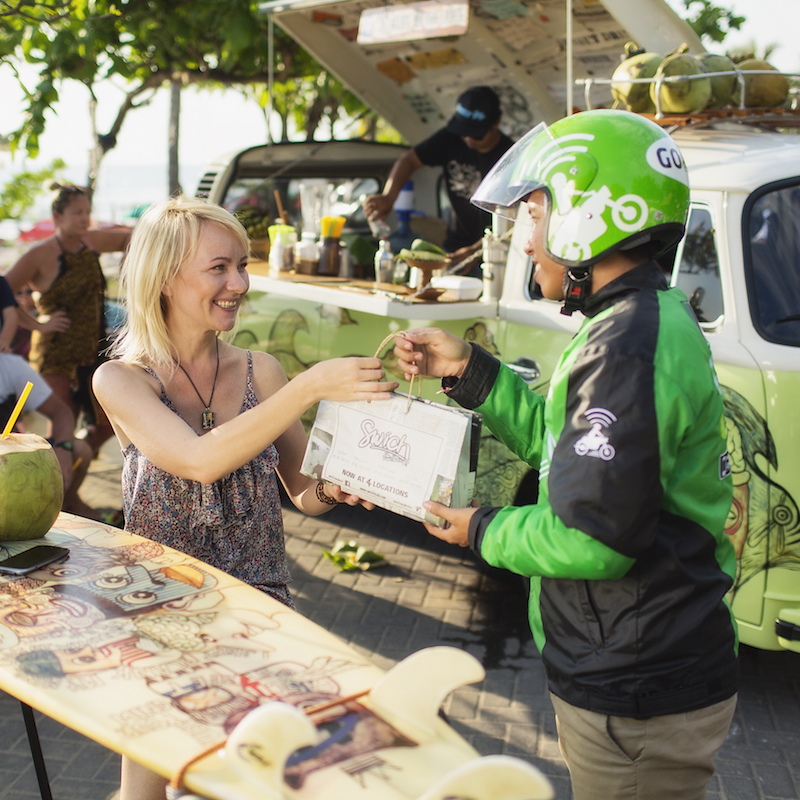 Gojek is a social enterprise that solves unemployment in the transport sector by partnering with a group of experienced and trustworthy drivers to deliver convenience in the form of transportation, courier, and personal shopping services. Gojek is revolutionizing the logistics and transport industry by providing these drivers with mobile smartphones to enable them to work anytime, anywhere. The drivers are equipped with Android devices which are used to locate the closest driver to minimize delivery time through a geolocation algorithm.
You can hire them to get you from place to place just using a smartphone app that communicates to the driver your exact location. You can preview the rate and pay cashless via Gojek credit (which can be topped up via the app) or pay the driver in cash. The rates are significantly better than a taxi on the street – for example, the fee from Kuta to Seminyak comes to a teeny tiny 10,000 IDR ($ 0.70 USD). You can see the driver's picture, contact your driver by phone and they carry a spare helmet for the passenger at all times.
For your couriering and personal shopping needs, you can have your driver transport anything from A to B that fits on a motorcycle. You can send drivers to pick up anything from a case of Bintangs to some dry cleaning.
The Gojek food delivery service GoFood also has a network of 5000+ food outlets around Bali – so you'll never get caught hungry again. When you have people coming over and you haven't had time to put together a spread, simply send your new green-helmeted friend to the supermarket. Or when you wake up with a nasty Bali hangover, order a sandwich straight to your villa – all without getting dressed and leaving the comfort of your AC. With GoFood, you can access takeaways from any restaurant that will be paid for by the Gojek driver upon pick up and delivered within 60-minutes.
And it doesn't stop there. GoBox is an on-demand service for ordering pickup trucks and vans to move your large items. With transparent pricing, real-time tracking, and insurance for every shipment, GoBox is the most convenient solution for your bigger delivery needs.
Other services offered by Gojek include GoMart, an on-demand shopping delivery service that allows you to shop for all of your needs from various types of retail stores. Items can be selected through a user-friendly Gojek mobile app. Handy, right?
So who, what, how, when, and where? There are currently over 15,000 Gojek drivers doing the rounds in Bali based everywhere from Denpasar, Canggu, Seminyak, Petitenget, Kuta, Nusa Dua, Sanur, Uluwatu, and Ubud. So you really are spoilt for choice.