Bali is a paradise for tourist destinations that have successfully attracted the attention of domestic and foreign tourists. The charm of the natural beauty and culture of the Island of the Gods is indeed a champion, to be recognized in the international arena. Although dominated by beaches, there are actually many other interesting tourist destinations that you can explore on the island of Bali, you know!
Moving on to North Bali, we can enjoy canyoning adventure tours in the Gitgit Village area, Buleleng Regency which is located about 10 kilometers from the center of Singaraja City. Canyoning offers an exciting and challenging atmosphere that will be an unforgettable experience.
Here's the excitement at Canyoning Bali, hopefully, it can be a tourist reference for true canyoners.
Canyoning Bali is ready to pick you up in your area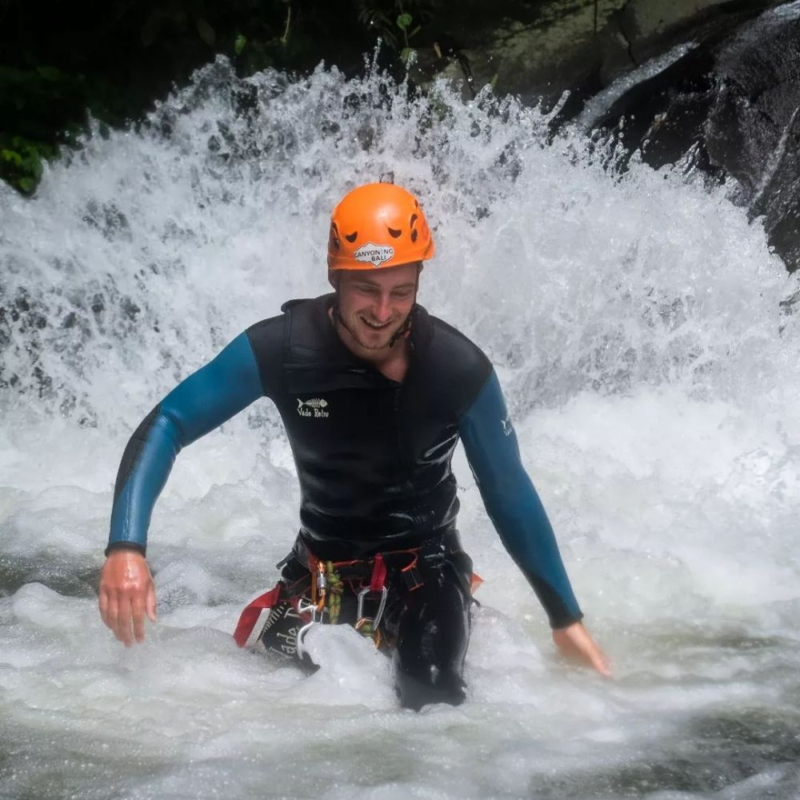 Yups, you don't have to worry if your hotel or place of residence is quite far from North Bali. Canyoning Bali is ready to serve return transfers anywhere in Bali, you know!
You will arrive at the Canyoning Bali base camp around 08.00 am. The base camp is located in Gitgit Village, Sukasada District, Buleleng Regency, Bali Province.
Don't forget to fill in your personal data as complete insurance, which is provided by Canyoning Bali.
Breakfast first before canyoning
Canyoning is a form of adventure that focuses on activities down waterfalls and canyons, also known as canyons. Before canyoning, you need sufficient energy and good condition. For that, you must have breakfast first, yes!
Canyoning Bali is ready to entertain you with a choice of light breakfast menus while enjoying a cup of hot tea or coffee on a cold morning.
Training session from an experienced instructor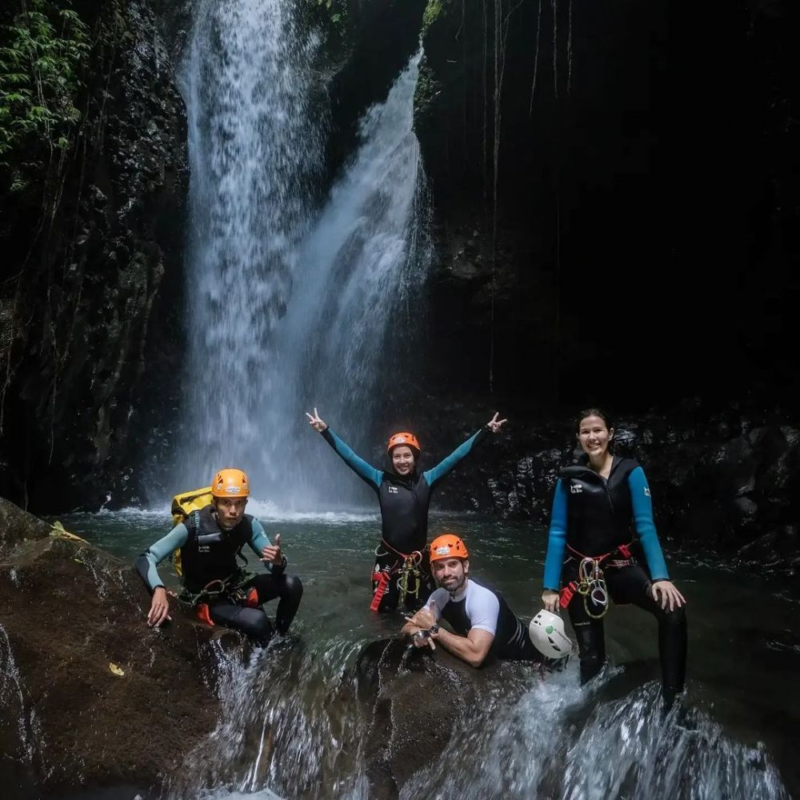 Classified as a fairly extreme activity, canyoning needs supervision from an experienced instructor. Canyoning Bali has a team of instructors ready to assist you, from training sessions to guide you throughout the entire canyoning.
In the training session, you will be taught how to use good and correct safety equipment. The instructor also provides an overview of the journey, route, and terrain that you will go through later. So you are getting ready for canyoning.
If you are a beginner canyoner and can't swim, don't worry because you will be accompanied by a professional instructor who is ready to ensure your safety during canyoning.
Canyoning can be followed by children aged 8 years to 70 years old, you know! Just make sure you are fit and in good shape, then you are ready to conquer the challenges of being a canyoner.
Super fun adventure down the waterfall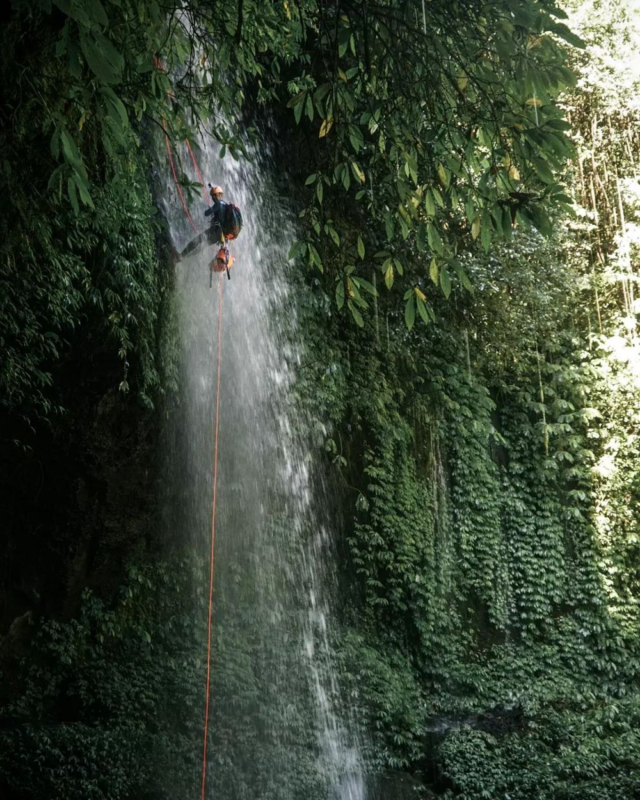 Canyoning Bali offers the sensation of canyoning in the waterfall area of ​​Gitgit Village which is still beautiful. The trip to the waterfall is about 10 minutes from basecamp by pick-up car. During the trip, you can enjoy the scenery in the Gitgit Village area which is quite pleasing to the eye.
And the adventure begins! You will walk down the rushing waterfall and start canyoning activities. To reach the downstream you need to pass several waterfalls with various canyoning techniques, which of course will be guided by experienced instructors. What are the techniques?
Rappelling. The most widely used technique during canyoning is rappelling. You will descend the waterfall by using a rope as the main means. With completeness in the form of canyoning shoes, wetsuit, seat harness, and helmet which has been facilitated by Canyoning Bali. So you don't have to worry about the risk of collision or injury
Jumping. This one technique is enough to test the adrenaline. You will jump from a certain height to reach the bottom of the water. For beginners who can't swim, don't worry because the instructor from Canyoning Bali is ready to take care of you below, guaranteed to be safe!
Swimming. Swimming along the water flow is also the dominant technique in canyoning, professional instructors are ready to guide you from choosing the safest spots to challenging spots as you wish.
The canyoning adventure in the beginner class takes 2-3 hours, with a route of about 500 meters. The trip was fun and challenging in every spot.
The longer the canyoning adventure route, the more techniques will be used to explore the waterfall. Want to capture your adventure? Don't worry because the instructors are ready to take pictures of you at every moment.